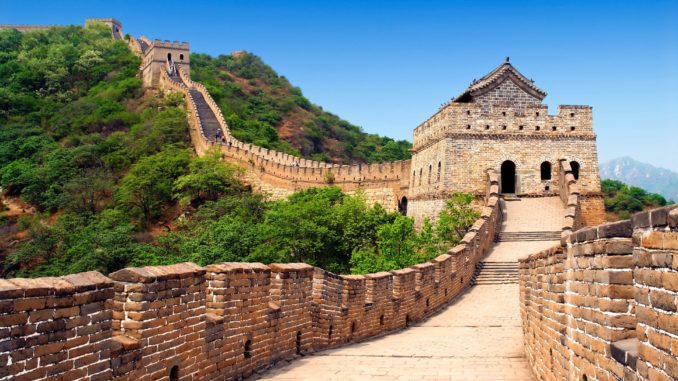 Summer Holiday Ideas for All on Newstalk
Are you having trouble thinking of where you'd like to go for your summer holidays? Not everyone likes too much sun but it is nice to enjoy good weather when you are away. So this week I've compiled a variety of summer choices for the solo traveller, couples and families.
Solo Travel
Option one
Travel Department
Tick the Great Wall of China and more off your bucket list with this incredible tour of China. The reason this is such a great trip is because it includes so much – many tours will be Beijing or shanghai but this includes both and Xian to see the terracotta warriors.
Beijing, Xi'an and Shanghai – Solo Friendly
11 nights  Departing 11th June 2019
Half-board 4* and 5* hotel accommodation
No single supplement From €2,599pp
Highlights:
Includes return flights, via Dubai with emirates transfers, accommodation and excursions with expert local guides
In Beijing, visit Tiananmen Square and the Palace Museum, also known as the Forbidden City, and Qianmen Street – an ornate shopping street which is one of the oldest pedestrian streets in China
Walk along part of the Great Wall of China
Visit a jade factory and walk the Sacred Way, a walkway which is part of the Ming Tombs complex
A visit to see the Summer Palace, Beijing Zoo and the Olympic Village
Visit the Lama or Yonghe Temple, which is a monastery of Tibetan Buddhism, followed by a rickshaw tour of an old town Hutong area
Visit the Temple of Heaven, which is a complex of religious buildings symbolising the relationship between earth and heaven
Gaze upon the Terracotta Army at Xi'an
Two night stay in the melting pot that is Shanghai, including a trip on the world's fastest train (Maglev) to Shanghai city centre, where you will take a lift to the top of Jinmao Tower or the Oriental Pearl Tower to get fantastic panoramic views of the surrounding city
A half-day guided excursion will introduce you to fascinating Old Shanghai, including beautiful Yu Garden, the old town of Shanghai, the bustling Xintiandi Street and Shikumen Open House Museum              * * * * * * * * * * * * * * * * * **
Camino Ways
Caminos are hugely popular and if you'd like to take a new route into Santiago Cathedral this may be the trip for you. Price does not include flights but you can get there
NEW Sea of Arousa Camino Espiritual
Walk and Boat
CaminoWays.com, the Camino experts, have launched a wonderful new Camino route available for pilgrims in 2019: the Sea of Arousa Camino walk and boat, also known as Camino Espiritual.
The Sea of Arousa Camino is a beautiful trail recently approved by Santiago Cathedral as an official Camino de Santiago route. The trail takes pilgrims through quaint coastal villages, lush forest tracks, vineyards, sandy beaches and ancient monasteries following an alternative route to the classic Camino Portugues.
This fascinating Camino trail is also known as Camino Espiritual as this unique Camino includes a boat trip across Arousa Estuary retracing the route taken by the body of St James on its way to Santiago.
Not to miss on this trail:
Wonderful Pontevedra Old Town
Picturesque granaries in the village of Combarro
Forest trails to Armenteira Monastery
A swim at the beach in Vilanova
Boat trip across Arousa Bay to Padron
A short break on the Sea of Arousa Camino Espiritual from Pontevedra can be walked in just 4 days but if you'd like to receive your Compostela certificate we recommend starting your walk from Vigo or Baiona to walk at least 100kms into Santiago.
PRICE / WHAT'S INCLUDED
Self-guided tour, 5 nights from Pontevedra to Santiago starts from €485 per person sharing; including 5 nights' accommodation with breakfast, luggage transfers, boat ticket, holiday pack with route information, 24/7 assistance number
An 8-night self-guided tour from Baiona to Santiago starts from €755 per person sharing;  including 8 nights' accommodation with breakfast, boat ticket, luggage transfers, holiday pack with route information, 24/7 assistance number. Single Traveller €933 Per person solo
Dinners, airport transfers and hotel upgrades are also available. Flights, lunch and insurance not included.
Walkers can also include a practical foldable refillable water bottle to their bookings with CaminoWays.com during 2019 for just €1, as part of their Green 2019 initiative to encourage walkers to reduce single use plastics including disposable water bottles.
More details about this route here: SEA OF AROUSA CAMINO ESPIRITUAL 
To book you can visit caminoways.com or contact our Camino travel experts at info@caminoways.com
IF you book with my code Novel Traveller you will get a €20 discount
******************************
Couples holidays
Greece is back in vogue and I've two deals, one from Travel Department and one from Tui
The Travel Department TD are offering a €50pp discount on May hols booked before this Thursday 30th April 2019
€50 per passenger off any Travel Department or TD active holiday of 7 nights or more departing in May 2019
 7 nights Half-board / B&B 4* hotel accommodation
Departing May, June & September 2019
From €999pp
Highlights:
direct flights from Dublin to Athens with Ryanair
Includes return flights, transfers, accommodation and excursions with expert local guides
A half-day guided sightseeing tour of Athens taking in the breath-taking Acropolis
A full-day excursion to the archaeological site of Delphi, where you'll see the ruins of the Temple of Apollo
View the Corinth Canal, a spectacular canal which connects the Saronic Canal with the Gulf of Corinth
A full-day guided excursion to the Argolis region, taking in Mycenae (a Greek settlement from the second millennium BC), Epidaurus (another spellbinding ancient city) and Nafplio (a pretty seaport with elegant Venetian houses and a dazzling setting)
Enjoy a full-day excursion to the Byzantine fortress of Mystras, which overlooks Sparta, origin and home to the famous Leonidas and his army of just 300 men
A half-day excursion to the beautiful Greek island of Spetses, by sea taxi
Plenty of free time to relax or explore this beautiful region further at your own pace. Your guide will be happy to recommend places / activities of interest
* * * * * * * *
Rhodes with TUI
Click on the link here www.tuiholidays.ie
Rhodes, the largest of Greece's Dodecanese islands, is known for its beach resorts, ancient ruins and remnants of its occupation by the Knights of St. John during the Crusades. The city of Rhodes has an Old Town featuring the medieval Street of the Knights and the castlelike Palace of the Grand Masters. Captured by the Ottomans and then held by the Italians, the palace is now a history museum.
Two people staying in a studion apartment wednesday 22nd May 2019 for one week flights from Dublin Direct with 15kg baggage included
Inc €631.12 Total Discount if you book online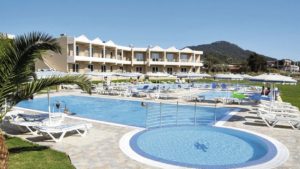 The same package going out on June 15th 2019 will cost you
Inc €532.08 Total Discount
 Official Rating 3*  Free Wifi
Emerald Studios is a six-minute walk from the sandy beach at Lalyssos Bay and less than half-an-hour's walk from Kremasti.
The sandy beach at popular Lalyssos Bay sits about a six-minute walk away from Emerald Studios. And, the bars, restaurants and shops of Kremasti are less than a half-an-hour's walk away.
Each of the apartments in this place features a fully equipped kitchenette, as well as a balcony or terrace. There are two swimming pools, a poolside restaurant and nightly entertainment.
Many of the beaches on the north of the island are shingle but there are nice sandy beaches and it's a lovely island to travel around.https://www.tuiholidays.ie/f/greece/south-aegean-islands/rhodes/kremasti-holidays
************
Family Holidays
I've had listeners ask about Lake Garda so I've found a package with Topflight who are the Italy specialists and an Irish Bonded Company I've two properties –
Lake Garda has Gardaland close by and the lake is surrounded by pretty towns easily reached by water taxi. Fabulous food and healthy activities in beautiful landscape – more info to follow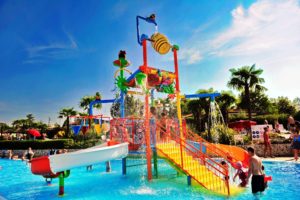 The fantastic bungalows at Bella Italia are a great alternative to a regular camping holiday, providing the same sense of excitement and adventure, without the added effort. All bungalows come with a comfortable living area, a fully equipped kitchen, a comfortable pull out sofa bed and a TV. There are two bedrooms (a double and a twin) which sleep 4-6 guests, as well as a large shower room with wc. Ideal for families, they have spacious accommodation and a great outdoor space where you can relax, soak up the sunshine and dine al fresco.
The complex is home to a range of fantastic amenities! Playgrounds, the lake, swimming pools, supermarkets and good value restaurants are all on your doorstep. There is loads to do in the vicinity with Gardaland, Movieland, a safari park, water park and aquarium nearby. Activities galore, breathtaking scenery, culture and ice-cream. All the ingredients for the perfect family holiday!
The Bella Italia Bungalows are a perfect base to explore some of Italy's most fascinating attractions. Experience the dazzling city of Verona, with its sense of romance, drama, history and art. See the floating city of Venice, take a boat ride down the Grand Canal and gaze upon glorious Venetian architecture. Both of these magnificent cities are within easy reach of the Bella Italia Bungalows, with organised excursions happening regularly.
https://www.topflight.ie/summer-sun/italy/lake_garda/peschiera/bella_italia_oleandro_bungalows
Prices:
1st June – €661 per person
29th June – €814 per person
20th or 27th July – €755 per person
Price based on 2 adults & 3 children
Prices include flights, return transfers, accommodation for 7 nights in a 2 bedroom bungalow on a self-catering basis, taxes and in resort manager services.