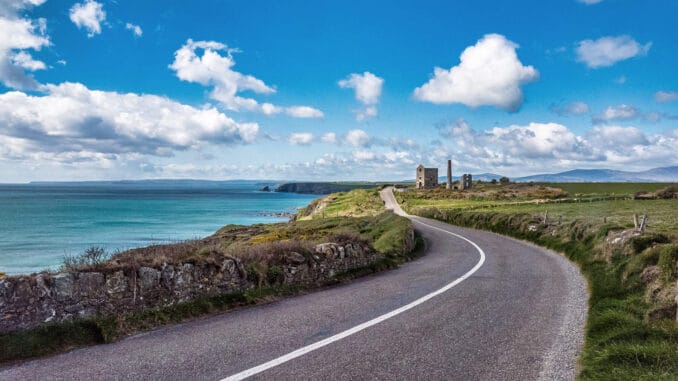 The Best Road Trips in Ireland
Everyone loves a good Road Trip and Ireland is blessed with the most scenic coast and countryside in the world. From the Wild Atlantic Way to the Copper Coast and Ireland's Ancient East, there's so much to see and do.
Listen back to my podcast with Kieran Cuddilhy on The Hard Shoulder here https://www.newstalk.com/podcasts/highlights-from-the-hard-shoulder/what-are-you-planning-for-your-summer-staycation
This summer has seen huge interest in Camper Van rentals. Craic and Campers, based in the west, have always been busy with foreign visitors. This year the domestic market has taken the idea of road trips to heart. There is however availability if you like the romance of a VW camper van. Lazy Days are based in Wicklow. for more information about travel around Wicklow see www.visitwicklow.ie
The charm of the VW Camper is its compact size, very easy and economical to drive. Perfect for negotiating Irelands small winding roads, village and towns. They are perfect to get off the beaten track and take full advantage of Ireland's relaxed approach to camping.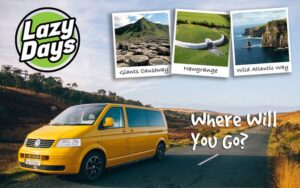 The team at Lazy Days have lots of trip ideas, recommended routes, destinations and campsites to share and we are only a phone call or email away, very happy to help throughout the booking and holiday experience.
Prices range from €130 – €155 a night for a 2 or 4 berth camper with a minimum hire period ranging from 3 – 7 nights.
Availability is disappearing fast with some dates still up for grabs in June, July & August. There is plenty of availability remaining in September, a fabulous time to travel if school holidays are not a concern! Just visit www.lazydays.ie or call or email Sue sue@lazydays.ie 0872885771 to get started.
Wicklow Way
The perfect route starting out at Bray will bring you to Enniskerry, Glencree Centre, Lough Tay, Roundwood, Laragh Glendalough and on to Glenmalure for the Rathdrum stamp:  just follow the Military Road. It may be busy this summer and don't be surprised if you see the odd Hollywood star lurking about as the follow up to Enchanted is being filmed in Enniskerry.
The new Wicklow Passport is a novel way to see this beautiful county, better known as the garden of Ireland. As you visit sites such as Russborough House or Powerscourt Gardens you get a stamp to put on the passport. You can order online and they cost €2. Check out how to get the passport and use it on VisitWicklow.ie
For those that love to hike the list of beautiful walks in Wicklow is endless. With the Spinc at Glendalough, Lough Dan and the Jouce offering challenging hikes, the Sugar Loaf is a must visit and you can finish up with afternoon tea at Powerscourt Hotel. If you're in a camper van then try stopping off at River Valley Park which offers a huge amount of options for camping, glamping and self catering. https://www.rivervalleypark.ie/camping/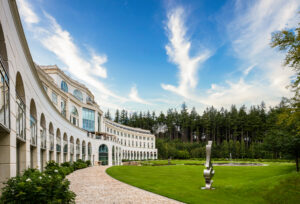 From June 2nd, the resort is offering a number of packages including their Summer Luxury Escape experience, offering 15% off bed and breakfast stay packages with pricing from €158.00 per person sharing.
Wild Atlantic Way
The Wild Atlantic Way rivals other epic routes and has been listed as one of the best road trips by heavy weight travel magazines National Geographic and Conde Naste Traveller. Most people don't realise that it runs 2,500 km long so it's best to tackle in bits and it's also the world's longest signposted road journey in the world. you can pick up a Wild Atlantic Way Passport too by ordering online from an post see link here WAW passport at a cost of €10.
Personally I adore the coast from Galway around to Clifden taking in Carraroe, Roundstone, and if you are planning an overnight stay there's a lovely stop off at Cashel House Hotel DAILY DINNER B&B. Enjoy a break in Connemara for 1 night Dinner B&B. Walking, cycling, exploring the beaches and bays. Dine on the very best of Irish Country House cuisine.
From: €140 per person sharing www.cashelhouse.ie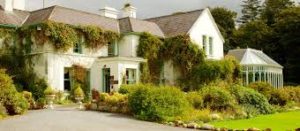 As nice diversion on the way to Clifden is Kylemore Abbey. When you get as far as Clifden then the hour long drive on the Sky Road which is only 16km long but has to be one of the most spectacular in the country.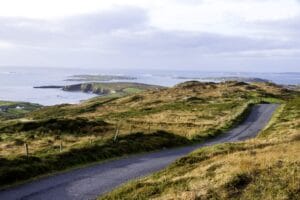 At the end of the route why not stay at Delphi Lodge with one of the best locations to explore Killary Harbour and lovely towns such a Lenane. You're also close to Mweelrea which is the highest point in Connaught and one of the most challenging in the country
Delphi Lodge offer 1 night accommodation, a full Irish breakfast cooked to order and a 6 course dinner in our Dining Room. From: €320 total stay (based on two people sharing)
Cork and Kerry
The Beara Penninsula is stunning to drive around and where the border of West Cork and Kerry meet in spectacular fashion. From Glengarriff, take in the service town of Castletownbere, beyond which is the Dzogchen Beara Buddhist Meditation Centre, which has a café and blissful meditation garden that overlook the Atlantic.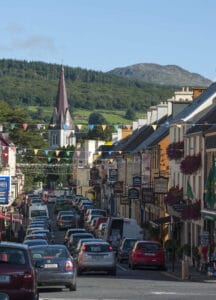 At the very tip of this craggy outcrop into the Atlantic, you can ride the ancient cable car across to tiny Dursey Island. Continuing to the north of the peninsula, the start of the wild R575 has spectacular views of crashing waves on one side. The coastal drive is 137km long and takes two hours without stops but the fun is in the stopping. Check out the ring of Beara website for more details http://ringofbeara.com/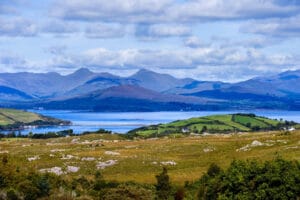 Those who continue on the winding road to Kenmare miss out on the magnificent Healy Pass, a lonesome road of hairpin bends where the wind whistles through the rocks and unbelievable vistas unfold below.
You can easily spend a day driving around this peninsula and take in Dursey Island – famous for bird watching but bring your own food and water. Travel to Dursey via Ireland's only cable car – for more details see https://www.durseyisland.ie/cable-car-timetable.html
The perfect stay is at Eccles Hotel and Spa in Glengarriff. This buzzing town has pubs filled with great craic and atmosphere and with beautiful gardens on Garnish Island you might be tempted to stay more than one night.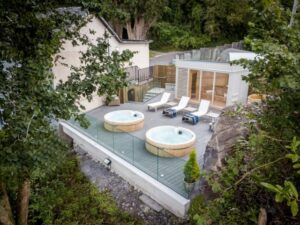 Stay at Eccles Hotel – One Night Dine and Dream Experience including breakfast and 3 course dinner prepared by renowned Head Chef Eddie Attwell, from €290 per night.
Guests amenities in the hotel include the spa treatments, outdoor spa deck overlooking Bantry Bay as well as Garden Yoga under the eucalyptus trees. Glengarriff is the place to explore this Summer with scuba diving from the harbour outside the hotel and food market of local produce every day, as well as the annual excursions to Garnish Island and visits to the local seals. Since 1745 there has been a hostelry on this site with guests including
WB Yeats, George Bernard Shaw and even Pippa Middleton have stayed here!
Causeway Coastal Route Northern Ireland
The Causeway Coastal Route is spectacular and if you haven't explored up north then this is the route to start with. It begins in Belfast and follows the Antrim coast past the Giants Causeway and Carrick-a-Rede rope bridge. Along the route you can see Dunluce Castle which was used in the filming of Game of Thrones Regular opening hours are Mar to Oct: Daily 9.30am to 5pm. Nov to Feb: Daily 9.30am to 4pm. Note: Last admission 30 minutes before closing. Admission charges apply
You will also pass Bushmills Distillery and I suggest not just stopping by but you can stay there as well. Bushmills Inn, Bed and Breakfast from €184 per room per night. (based on two people sharing) https://www.bushmillsinn.com/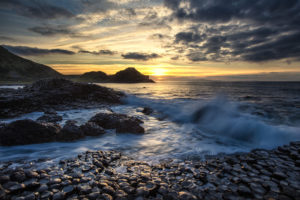 This route offers several gems along the way, such as the Gobbins. This spectacular cliff walk that has re-opened a couple of years ago set against spectacular clifftops – not too far from Belfast.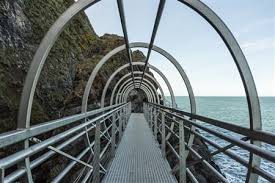 There's much to see and do on this spectacular route. To be guided in detail check out this post on the Discover Northern Ireland Website here causeway-coastal-route
To find out more about things to do in Northern Ireland: https://discovernorthernireland.com/
The Copper coast
Waterford has some stunning secret spots but probably the most underrated is The Copper Coast The Waterford Copper Coast is now a UNESCO Global Geopark, one of three in Ireland, it extends along the County Waterford coastline for 25 km and is named after the 19th century copper mines that lie at the heart of this spectacular stretch of cliffs.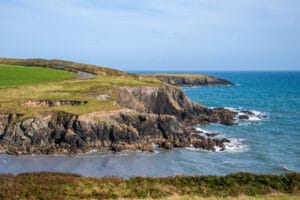 Along with an audio tour around Annestown, there are walking trail cards for the villages of Annestown, Boatstrand, Bunmahon, Dunhill, Fenor, Stradbally Trails, and Audio Trails along the Copper Coast. The trail cards can be printed or stored for viewing on your phone. Check the website for details and cards https://coppercoastgeopark.com/
In Waterford Mount Congreve Gardens is a lovely stop off. The gardens will re-open four days per week from 10 am to 5.30 pm with the last entry at 4 pm from Thursday to Sunday inclusive and will open for all of the summer bank holidays. In order to ensure the safety of all staff members and the health and safety of visitors, ALL visitors must pre-book a ticket to access the gardens in advance at www.mountcongreve.com as a limited number of tickets will be available for each day.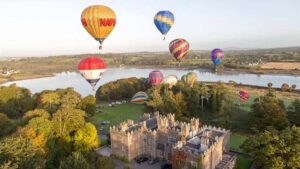 Enjoy a stay at Waterford Castle before heading off on the drive. Located just minutes drive from Waterford City Centre and accessible only by our exclusive Resort Ferry, a staycation at Waterford Castle Hotel & Golf Resort is sure to be one of your most memorable ever. The Island is packed full of activities, from the playground and foot golf course adjoining the Lodges, to the Driving Range, Golf Course, Tennis / Basketball Court, Falconry, Clay Pigeon Shooting and various scenic nature trails, where you might be lucky enough to see the herd of wild Sika Deer who roam the Island!
Price for a stay for two at Waterford Castle Resort Hotel
For the Castle Regal Retreat package which is a 1 night stay including fine dining dinner and breakfast is from €389 for two people sharing.
For more to see and do in the area check out https://munstervales.com/en