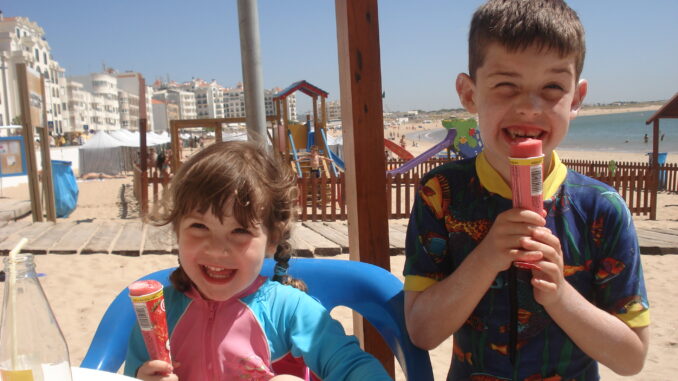 As we make the most of summer and head off on holidays we all need a little help to get prepared for our travels. I've listed some top tips here to help your next car trip with all the family. Airports can be a stress at the best of times as can plane journeys so I've some top tips to help you get through the airport and your final destination.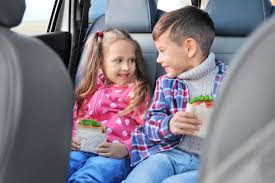 Travelling by Car – this can be on a staycation or for getting the ferry which is very popular way to travel especially for European camping holidays. If you're packing up the car with the family here are the things you need to consider and don't forget to make a list!
Car Size Matters – You will need plenty of space when travelling with kids – if they are packed too tightly arguments start and that's not a great start to a road trip. Give kids room and maybe one adult may need to sit in the back to keep the peace
Choose a good time of day when there is a good chance that your kids will sleep – I used to lift them from bed early in the morning while still in their pjs and then wrap a blanket around them so we got a couple of extra hours start on the day. This only works if you have an early check in and most hotels are 2-3pm so work out the best time for your journey. Otherwise plan a stop off so kids can run around for an hour and it breaks the journey
Plan Breaks – you can stop off at a park or playground or local amenity such an aquarium or pet farm to stretch legs and find a toilet.
Use Nap Time If you have toddlers plan to drive during nap time –
Pack Snacks and plenty of drinks – you may need to pack lunch so make it a car picnic and have fun with it.
Play guessing games, and of course charge your tablet or phone so you can play your kids favourite cartoons and movies. Most people use the usb in their cars to keep electronics charged but you'll be surprised that some older cars have them too. There are cradle holders you can get to hang the screen on the back of your car seat headrest.
Have a singalong – play something all the family can sing along to and have your own carpool Karaoke.
Use your extra space in the car – especially if taking the ferry to France – you can bring back boxes of wine so leave room for that in your boot and on the floor of the back seat. Get a roof rack for some extra space!
Travelling by Air – there is a special lane at Dublin airport for families with young children and those with buggies but this is not for older families. Shannon and Cork Airports don't seem to have the same issues this summer and have been easy to pass through.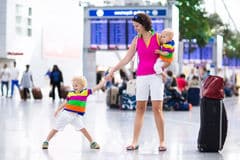 Obvious must for all travellers – save your documents in your wallet on your phone and have a paper copy just in case your phone runs out – the verifly app is a good one for flyers too or download the app of the airline you are flying with. You don't want to be fussing over such details especially when travelling with kids….
Early Flights are generally better with kids as they will be excited for the trip and more enthusiastic – late flights are more difficult but prepare by putting kids in PJs
Bring your Buggy – most airlines allow free carriage of buggys and take them from you at the aircraft gate doorway – make sure it's a light easy to carry one.
Prepare for Security. Be ready to go through security with as much ease as possible – only 100ml bottles allowed through screening system and must be in a see through bag – you are however allowed to bring baby food and formulae – (my son brought a swiss army knife through in his back pack so this is something you need to watch if you are training your kids to pack for themselves!!!)
Phones laptops all have to go in a separate tray along with belt buckles and jackets so try not to make life difficult and dress appropriately – wear flats or runners and do same for your kids- if there are two parents designate electronics to one – if you travel as a single parent like I did for a long time you have to be super organised
Don't Pack Too Much Stuff. You won't wear half what you bring and chances are the kids won't either. Roll your clothes as this gives you inches more room. You can usually bring a 10kg bag FOC on a charter or long haul flight. Pack your bags together – this is great preparation for the future – my kids have been packing their own bags since they were five. Getting kids to bring their own bags is good training but something else to look after and be careful about taking a beloved toy as you lose them at your peril – it could ruin your holiday. (My daughter left Elizabeth in several hotels over the years and all were good enough to post her back!)
Pack a change of clothes in hand luggage in case of illness or lost luggage – all parents become dependent on wet wipes on a daily basis but these are essential for travel no matter what age you are – also with the loss of luggage bring one change of clothes and a swimsuit and wrap and shorts to get you through first few days if you are unlucky enough to lose your luggage – make sure kids are comfortable and PJs are great to travel in if early morning or late at night and it's always cold on an airplane!
Food on Board Kids are fussy eaters so you can bring sandwiches and packed snacks etc but some airlines allow you to pre book your breakfast or meal so check on the airline app before you travel –
Games – cards are great for older kids but travel size games are great too – for 3+ a colouring book set produced once on the airplane is always a big hit – some airlines provide these on board. Download movies and cartoons to your phone and tablets
Charge Devices Make sure your tablets are fully charged and bring a charging pack because you can't beat watching your favourite cartoon in mid air.
Sucky Sweets will help with ear pain on take-off and landing. Thankfully most modern aircraft won't affect the pressure in your ears however this experience is totally new for kids so you don't know how they will react to cabin pressure.
Inform your Kids – the last thing you want is your child to be afraid of flying as they will be doing it many times in their lives so remain calm and tell them things to ease their fears. Such as the noises of the wings moving, or dropping of the under carriage are perfectly normal and there's nothing to worry about.
Plan Your Arrival – Have a plan of action worked out for your arrival – if you land late at night to a strange airport you may not have lots of taxis waiting for you – that's another reason I recommend booking with travel agents as someone is ready to take you to your resort. Don't scrimp when travelling with kids, especially babies – you might be happy with the bus but with luggage and kids you may need a taxi.
Remember to have fun – they won't be this small for long and many parents are busy worrying about routines and having everything perfect but when you've kids you need to be flexible – the memories you make will be precious and an album of your holiday makes a great Christmas present for granny's or granddad's especially if they travelled with you as some many people are going on 3G (three generation) holidays after being away from parents for the last two years…..bring a notebook to write down the funny things your children say! They see the world with different eyes to you…and might renew the wonder in the journey not just the holiday!