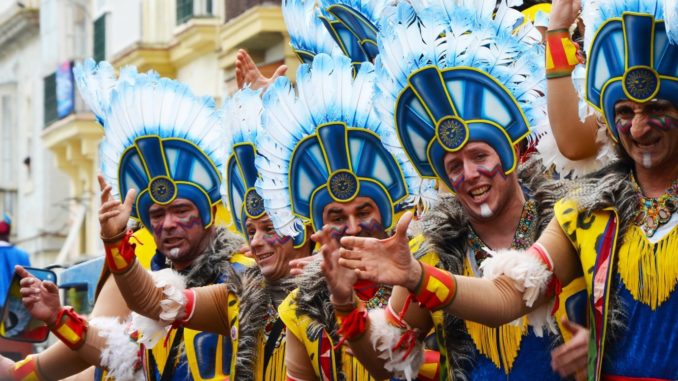 There are so many good reasons to visit Spain. The Irish love this sunny country with so much to offer every taste. We visited Spain in record numbers last year – reaching 2 million for the very first time. Today I'm looking at new things to do in the ever popular Andalucia, off beat resort Bibao, sunny Majorca and of course some novel travel too.
I'm starting with Andalucia and some lesser know provences. Cadiz is one of the oldest cities dating back 3,000 years. It is best known for its small villages dotted along the coast, Jerez the home to sherry and special horses trained to the highest standard of skill. Vejer de la Frontera has been listed in the top ten of most beautiful villages in all of Spain. Tarifa on the south is a mecca for wind and kite surfing with strong winds from the Atlantic that turn into the Mediterranean around the corner. The Moto GP track hosts an annual event in the calendar and Algodonalas is the perfect spot for adrenaline junkies who like to para-glide.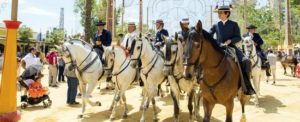 The Jerez Horse Fair consists of joy, fun and purebred animals. The nobility of the horses you can see during the event has made it internationally famous. Of ancient origins (1284), it was originally a livestock market. Over the years it evolved into today's conglomerate of festivities. Among the different events, mention should be made of the equestrian contests and competitions, and of the marquees set up in González de Hontoria park, adorning its avenues and paths with flowers and garlands over the course of the fair.
Several castles and monasteries have been converted into unique boutique hotels and 26% of the land has a special protection order on it.
Why not take in a stay at Seville on the way to Cadiz – this packages is with the Travel Broker
The Travel Broker
11 Vernon Avenue
Clontarf, Dublin 3
Ireland
Tel: + 353 1 833 3921 | http://www.travelbroker.ie/
Depart Dublin 6 October @ 9.30, Arrive Seville @ 13.30
Depart Seville 16 October @ 12.10, Arrive Dublin @ 14.10
3 nights in 4* Novotel Sevilla Marques de Nervion on a B&B basis
7 nights in 4* Senator Cadiz on a B&B basis
This striking hotel is wonderfully located in the historical centre of Cádiz, close to the best shopping and historical areas of the capital. It is situated just 5 minutes from the train station and 40 km from Jerez airport. This establishment provides guests with a wide array of facilities such as WiFi access throughout the premises, perfect for those who want to stay connected. The spacious rooms have an en suite bathroom with hairdryer, soundproof windows and necessary amenities to allow guests to feel at home. A gym and an outdoor pool with magnificent views of Cadiz are also available to guests.
Total cost to include flights, 10kg hand luggage, private transfer from Seville Airport to Novotel Hotel, Hop on Hop Off Bus tour in Seville, return train to Cadiz and accommodation on a B&B basis – €919 per perso
* * * * * * *
Almeria
Staying in Andalucia what about exploring Almeria? There are two very unique experiences to be found in Almeria. Any fans of the Wild West will be fascinated by the Desert of Tabernas where several films have been made. Most notable among those are the Sergio Leone Spaghetti westerns featuring Clint Eastwood, The Good, The Bad and The Ugly. Steven Spielberg shot parts of Indiana Jones and the Last Crusade here and Ridley Scott used the scenery for his epic film Exodus.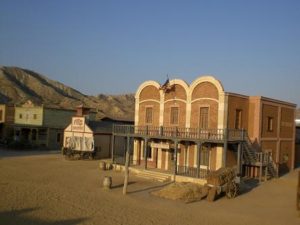 It also is famous for its astronomical observatory which boasts the largest lens in Europe. It's possible to stay close by and bring the family along for a night star gazing.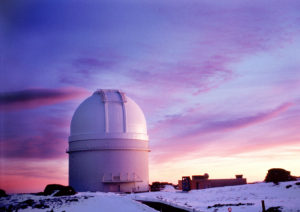 Along the coast, Almeria has some of the least spoilt beaches in Spain. Del Cabo de Gata national park is especially scenic with spectacular natural formations and reefs at it most undeveloped points. An ideal location to stay and explore is at Mojacar which is only one hour from Murcia and Almeria airports. This village belongs to the list of most beautiful villages in Spain.
Amazing Value holidays to Roquetas de Mar in June from €479pp with Click and Go
From €479pp for the 3 Key Pierre Vacances Roquetas de Mar Apartments. Price is per person based on 2 adults sharing for travel in June 2018.https://www.clickandgo.com/design-your-own-holiday/details/2018-06-09/7/2::0/RO/DUB/0/7500/16001/472?search=all/Costa_de_Almeria/2018-06-09/7/2::0//DUB/0
Price includes:
7 nights in the 3 Key Pierre Vacances Roquetas de Mar Apartments, Roquetas de Mar, Costa de Almeria, Spain
One bedroom apartment on a self catering basis
Return flights from Dublin to Almeria
Airport Transfers
Airport taxes & charges
Link to offer:
 Mojacar Offer from The Travel Brokers 
The Travel Broker
11 Vernon Avenue
Clontarf, Dublin 3
Ireland
Tel: + 353 1 833 3921 | http://www.travelbroker.ie/
Depart Dublin 13 October @ 16.20, Arrive Almeria @ 20.30
Depart Almeria  23 October @ 20.55, Arrive Dublin @ 23.00
7 nights in 4* Hotel Best Oasis Tropical on a Half Board basis
The Best Oasis Tropical Hotel is located just in front of the sea, in the sunny village of Mojácar, only a few meters from a golf course. Comfortable rooms with balcony, fully fitted bathroom with hairdryer, satellite TV, security door lock, telephone, fridge, heating, air conditioning and optional safety deposit box. Buffet restaurant with show cooking, national and international cuisine. Swimming pool for adults and children, children's area, kid's club, garden, snack bar, gym and an indoor swimming pool in winter as well as day and night entertainment program. Optional services: parking, spa, massages, hairdresser's, gift shop, tennis court and paddle court, meeting rooms.|
Total cost to include flights, 10kg hand luggage, shuttle transfer and hotel on a Half Board basis – € 549 per person
also with the Travel Broker this geat Over 50's offer
Depart Dublin 13 October @ 16.20, Arrive Almeria @ 20.30
Depart Almeria  23 October @ 20.55, Arrive Dublin @ 23.00
10 nights in 4* Best Sabinal on a Half Board basis with water and wine with dinner
Total cost to include flights, 10kg hand luggage, shuttle transfer and hotel on a Half Board basis with water and wine with dinner – € 499 per person
If you are looking for a family holiday in the sun the Costa Del Sol is always popular and this offer from Wallace Travel is for the end of June
Family Holiday to Torremolinos, 23rd June, 7 nights, from €2919 per family
Jet the family to Spain's gorgeous Torremolinos region in Malaga off for a week with this package from Wallace Travel Group. With self-catering accommodation in the Sol Timor Apartments, your family will enjoy direct access to the striking La Carihuela Beach.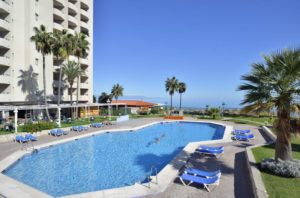 The ideal location for a family holiday, enjoy the abundance of restaurants looking out onto the sea and find fun activities in area of Puerto Marina, from boating, dolphin-watching and paragliding! With a local golf club, water park, the street market and the opportunity for water sports, there is plenty to do for the whole family on this week break to Torremolinos.
Price includes: Return flights, checked baggage, airport transfers and accommodation for 7 nights on a self catering basis. Price is based on 2 adults and 2 children under 12 years of age.
For more information on this offer from Wallace Travel Group visit:
* * * * * * * * * * *
Finally before I finish with this beautiful coast this trip offers everything you'd possibly want to do on a cultural tour of Andalucia
Highlights of Andalucia with The Travel Department – 7 Nights
Departing Dublin on 18 October
Travelling to Andalucia, Spain for 7 nights
Hotels on this trip
Hotel Coso Viejo

3 | B&B or Half Board
What's included in your price
Flights
Accommodation
Transfers
Great Guides
Excursions
Outbound flight Thu 18 October
Dublin – Malaga

Dep. 07:00 – Arr. 11:10

Aer Lingus
Inbound flight Thu 25 October
Malaga – Dublin

Dep. 12:20 – Arr. 14:30

Aer Lingus
On arrival in Malaga, your guide will meet you and accompany you to the coach, for transfer  to your hotel in the lovely town of Antequera.  During the journey, there will be tips and information to help get your holiday off to a great start !
Day 2 – Antequera Day 3 – Córdoba Day 4 – At Leisure Day 5 – Granada and the Alhambra Day 6 – At Leisure Day 7 – Seville 
Travel Department Andalucia
 click here for details
For more information see http://www.spain.info/en/
or http://www.andalucia.org/en/
* * * * * * * * * *
Moving north I've got a delicious tour with GTI to Basque country and exploring the rioja wine region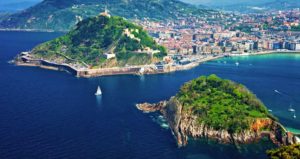 Basque, Bilbao & La Rioja
Explore the culture & cuisine of the Basque Country
Join us on this 8-day escorted holiday to the Basque Country – home to some of the world's finest food, beaches & avant-garde architecture. Enjoy fascinating guided excursions and enjoy time to relax and sample the cuisine that this region is so famous for! The price for this eight day tour is €1149 going out October 2nd-9th 2018
Day 1 – Bilbao
Arrive at Bilbao airport, transfer to the hotel. Guided walking tour of Bilbao.
Day 2 – Guggenheim Museum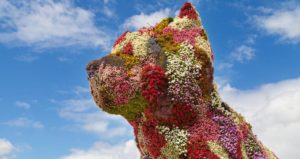 Breakfast at your hotel. Walk along the historic Nervión River to visit the world-famous Guggenheim Museum – hailed as the most important structure of its time when it opened in 1997, Frank Gehry's Guggenheim Museum Bilbao has changed the way people think about museums. Its collection spans from the mid-20th century to the present day, concentrating on post-war painting and sculpture in America and Europe. The collection includes key works by significant artists including Anselm Kiefer, Willem de Kooning, Robert Motherwell, Gilbert & George, and Richard Serra.
Enjoy a free afternoon in Bilbao to explore this exciting city of culture.
Day 3 – San Sebastian
Breakfast at your hotel. Full day excursion to San Sebastian. Enjoy a guided walking tour of the old town & La Concha beach promenade – one of the finest city beaches in Europe.
The Basque country is renowned for the quality of its food, with San Sebastian flying the flag for its haute cuisine. You'll have free time for lunch where as well as superb restaurants, you'll also have the option to visit the Pintxo bars. Pintxos (the Basque word for tapas) are a cuisine in miniature found in bars all over the city.
Day 4 – La Rioja & Santo Domingo
Breakfast at your hotel. Full day excursion to La Rioja – renowned for the quality of its wine production – with wine tasting. Spend time in Haro, the wine capital of the region.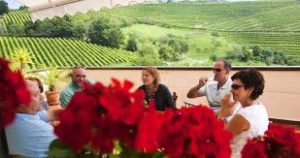 Visit Santo Domingo on the Pilgrim Road. Be sure to ask the meaning of the town's motto: "Donde cantó la gallina después de asada" (where the roast chicken still sang!) Here you'll have the option of doing a 6km stretch of the Camino de Santiago.
Day 5 – Guernica & Bermeo
Breakfast at your hotel. Full day excursion to Guernica – the historic and symbolic centre of the Basque country. The town known throughout the world due to the painting by Pablo Picasso that bears the same name. The painting shows the suffering and tragedy that Guernica endured on 26 April 1937 when German & Italian air forces bombed the town, destroying everything but a few buildings. Thankfully though, the two most important symbols of Guernica – the Biscayan Assembly & the Guernica Tree – both survived.
Visit the intriguing San Juan de Gaztelugatxe whose origins are shrouded in mystery. Reputed to be a 9th or 10th century hermitage, it is connected to the mainland by a man-made bridge. Stop at the coastal town of Bermeo – one of the most important fishing villages in the Basque Country. The town has a long maritime tradition and, for centuries, the Bermeotarras were famous whalers.  A visit to its beautiful old port is a must!
Day 6 – Burgos
Breakfast at your hotel. Full day excursion to Burgos with a guided tour of this medieval city including a tour of its Gothic Cathedral – a UNESCO World Heritage site. Enjoy free time in the afternoon for personal sightseeing and shopping.
Day 7 – Free Day
Breakfast at your hotel. Free day in Bilbao to relax & unwind or to see more of this fascinating city, your Tour Manager will help with various options for this day.
Day 8 – Return Home
Breakfast & check out of your hotel. Transfer to Bilbao airport to return to Dublin.
Return flights with Aer Lingus from Dublin to Bilbao including taxes & charges
Professional tour manager & executive coach transfers
7 nights at the 4* Occidental Bilbao with breakfast included daily
Walking tour of Bilbao
Walking tour of River Nervión
Walking tour of San Sebastian
Rioja Winery Tour with wine-tasting
Guided tour of Burgos & its cathedral
Visit to Santo Domingo de la Calzada on the Pilgrim's Road of the Camino
Optional 6k walk on the Camino
Plenty of free time for sightseeing, shopping and relaxing
* * * * * * * ** * * * *
Who doesn't love Majorca. The Balearic Islands are ever popular with the irish and this couples retreat is bang in the middle of high season and goes from Cork.
Couples getaway to Majorca, 31st Jul, 14 nights, from €959pp
Enjoy sunshine and relaxation with a two-week trip to one of the Mediterranean's most popular destinations, Majorca. Providing a stunning coastline, the Spanish island is perfect for sun-worshipping by day and sunset beach strolls in the evening.

Located just meters from the white sands and crystalline water of 'es Moré Vermell' beach, Hotel Moré in Alcúdia offer guests spectacular views to Pollensa and Formentor bays. With more than sun and sea on offer, discover Alcúdia, a town full of character and charm and explore this medieval city's maze of small, narrow lanes, café-filled plazas and historic mansions. A 15 minute walk from the hotel is "one of the archaeological gems of the Balearic Islands" – the ancient Roman City of Pollentia.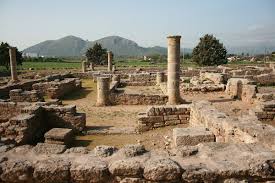 Price includes: 14 nights accommodation in 3* More Hotel on half board basis, return flights from Cork Airport, based on 2 people sharing.
 *  * * * * * * * * * * * * * *
The Canary Islands are each different and offer a variety of fun, sun and culture. I love Lanzarote especially for families and it's an island with plenty to see and do. This offer from Click and Go is to Costa Teguise on the east coast, a haven for wind surfers and close to the fabulous foundation Cesar Manrique. This is a must visit along with Timyanfya National Park. See the volcano and ride a camel! And you are still in Spain!

4* holidays to Lanzarote in June from €569pp with Click and Go
From €569pp for the 4 star Sands Beach Resort Apartments. Price is per person based on 2 adults sharing for travel in June 2018.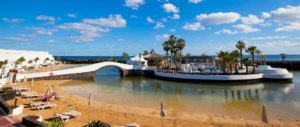 Price includes:
7 nights in the 4 star Sands Beach Resort Apartments, Costa Teguise, Lanzarote
Studio on a self-catering basis
Return flights from Dublin to Lanzarote
Airport Transfers
Airport taxes & charges
click her to go to offer click and go Lanzarote
* * * * * * * * * * * * *
MSC Seaview sailing from Barcelona
I'm finishing off this week with a super offer from MSC and Click and Go on the new ship Seaview. Starting and ending in Barcelona it's a lovely way to squeeze a second holiday into your trip.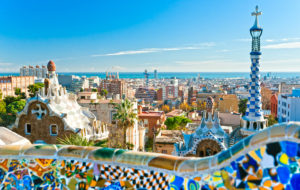 Sailing peak season on August 3rd and remember a cruise is an all-inclusive holiday so you don't need to spend more on food – and to add on the drinks package is only €26 per day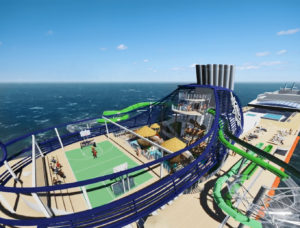 EXCLUSIVE Prices to Click&Go – 7 night Mediterranean Fly/Cruise from only €1,499 in a Balcony cabin on MSC Seaview – BOOK BY 25nd May & SAVE €900 
7 night Mediterranean Fly/Cruise from only €1,499 in a Balcony cabin on MSC Seaview
7 nights  (3rd August 2018)
Cruise Ship: MSC Seaview
Itinerary– Barcelona, Spain – Marseille, France – Genoa, Italy – Naples, Italy – Messina, Sicily – Valletta, Malta, Barcelona, Spain
Includes:
o       Return flights from Dublin
o       Transfers
o       7 night cruise
o       Full board- all meals & snacks
o       Entertainment
Visit www.clickandgo.com today or call (01) 539 7777 to talk to one of our experienced reservation agents today.