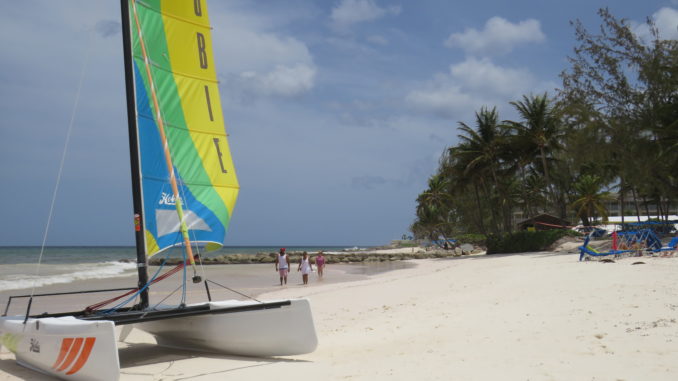 This week I'm chatting to Ivan about the honeymooners paradise Barbados.
Woh! We're Going to Barbados on Newstalk's Travel Wednesday
From the moment our taxi driver Ricky picked us up from the airport we were filled with a pile of information to adequately get our bearings. Barbados is the most easterly of the Caribbean Islands and the point where the dramatic Atlantic Ocean kisses the warm  turquoise blue waters of the Caribbean Sea. With the palms swaying in the gentle breeze it is the perfect spot to celebrate any romantic occasion, not just a honeymoon.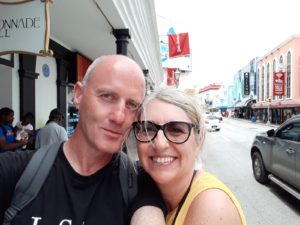 Barbados Facts straight from the taxi driver's mouth!
Barbados is 14 miles wide by 24 miles long and easy to drive around and divided up into 11 parishes. Most of the 280k population are Anglican in religious practice and strongly linked to their English heritage. They have been an independent state since 30th November 1966 but are part of the commonwealth of British Nations
Money is Barbados Dollar and fixed at a rate of $2 Bajan to one American dollar. Both are accepted but if you pay in US dollars you will get Bajan in exchange. Credit and Debit Cards are widely accepted. Some ATMs won't work but try one in a bank if you are having difficulty. Don't forget to inform your bank of travel.
Crop Over
Rihanna is of course one of the island's most famous daughters and the street Rihanna Drive has been named after her. She has been known to visit, especially during Crop Over – this month long festivities that starts at the end of July each year is a mix between Mardi Gras and Carnival where the locals go crazy and celebrate the harvesting of the sugar cane in historic tradition.
Bajans are proud of their identity but don't use Barbadian to describe themselves or items from Barbados. You'll here plenty of Bob Marley wherever you go on the island and the classic, "I'm a Bajan," in the most unexpected places.
Connections by public transport are entertaining, the yellow Reggae Bus with a blue stripe down the side is a reasonable $3.50 for any journey length and the music blaring from the drivers seat is free. Expect Reggae or Creole in the morning to wake passengers up and then something more melodic or instrumental in the afternoon, with the volume pumped up again come home time at the end of the day. The conductors might be drinking a cold one or hanging out of the side when packed but that's part of the charm and much more fun than a taxi.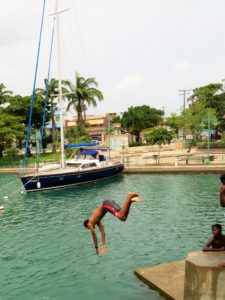 The Capital Bridgetown, is a Garrison town with some buildings as old as the colony. We took a stroll through Cheapside Market (once the poor part of town but now a UNESCO Heritage site) and met some interesting characters. Goggy the shoemaker told us about his clients that ask him to send shoes to them from all over the world. When we asked him how he got his name he said. "My woman stuck it on me."
HORSE RACING
Dating back to the 1800s, horse racing in Barbados is centred on the historic Garrison Savannah.
Now under the auspices of the Barbados Turf Club, the race meets are spread over three seasons: January-April, May-September and November-December. The most prestigious race of the year is the Sandy Lane Barbados Gold Cup, scheduled for 04 March in 2017. Visitors are made very welcome on any race day.
What to drink?
There are two staples on the island. The famous Mount Gay Rum which i found in yacht clubs all over Ireland and the rest of the world. And Banks Beer, four bottles of the award winning Banks Beer cost $11 Bajan, that works out about €1.20 per bottle.
What to Eat?
Friday night is party night in Oistins and the Fish Fries are famous for bringing together locals and visitors from all over the island. Bustling past steamy barbeques and breakdancing locals we spotted some characters, notably a dapper gentleman in his seventies wearing gold sequined trilby and yellow shirt who moved like John Travolta around a local shebeen to the best 80s dance music.
Where to stay? I've taken three hotels…
The Abidah Hotel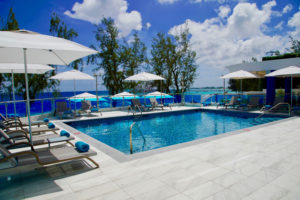 Enterprise Beach in Oistins looks out at the Atlantic with brisk waves with shades of west cork against the rocky shore line – during the week it's a quiet residential area for the well-heeled-Bajans. The new Abidah Hotel is in perfect setting for a quiet honeymoon with each of the 44 suites equipped with a balcony sea-view and outdoor hot tub. Food is a priority here and although there is only one restaurant open at the moment, guests are given free transport to the Accra sister hotel and their full range of dining options.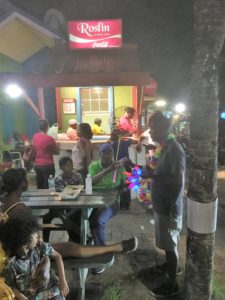 Sandal Royal Barbados
In order to thoroughly investigate the island we packed our bags and moved up the coast to the south of the island and popular St Lawrence's Gap where Sandals have two sister properties sitting cheek to cheek on a long stretch of the beach. The newly opened Royal Sandals is where we rested our heads for the next two nights and we were in for quite a shock when we realised that we were appointed not just one butler but two. Hamilton and Jerome left us with a mobile phone that we only had to ring if we needed assistance. Services included, setting up the beach towels on the sunbeds at the pool or beach, and delivery of cool box with our choice of beer or cocktails. It included looking after our reservations to any of the 14 restaurants and of course our laundry. The great thing about a Sandals stay is that inclusive means all-inclusive and that goes for water sports, bowling in the new state of the art bowling alley and the full bar in our room.
On our last day Jerome called us with a gentle reminder to get ready for dinner and when we arrived up to our room, the doorway followed a path of rose petals out to the veranda where a bubble bath had been run for us filled with more petals. A bottle of champagne on ice with two glasses rested beside the bubbles and our towels and slippers were placed decoratively on the sunbed beside it. As each suite has a large veranda bath (big enough for two I hasten to add) Jerome had pulled across the balcony curtains away from any prying eyes looking up from the pool or beach.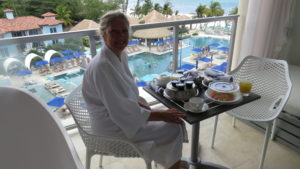 Sandals properties are dotted all over the Caribbean without a buggy or toddler in sight but one of our highlights was sundowners in the hammocks for two. The beaches were emptied at night and some guests chose to dine at a table for two set on the water's edge…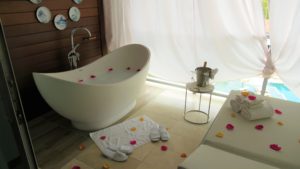 Elegant Resorts at Treasure Beach. This small boutique Hotel is set right on Paynes Bay Beach and prides itself on supporting local artists with a card placed on our bed at the turn-down service. Sundowners are a nightly activity where local artists from Holetown sell their wares. Treasure beach is unspoilt and quiet and we loved to watch the tiny sand crabs popping in and out of the water on our nightly stroll under the moonlight. The food is great at this resort and with a lovely mix of Mediterranean and world cuisine to suit any palette.
Must Do Activities
'Cool Runnings Catamarans' picked us up from our hotel and took us to Bridgetown Port. From the moment we boarded, Captain Eddie and his crew set the tone that this would be a fun day. We start our adventure as we pull into a bay to swim with the turtles. The warm Caribbean Sea kisses the beaches on this side of the island and the tempestuous Atlantic rolls against the eastern shoreline creating the most spectacular scenery.
I'm a nervous swimmer in the confines of a swimming pool but the staff insisted that I swam with the sea turtles. I thought up every excuse not to- "I'm not wearing my contact lenses." I said. But dishy crew member, Adam said. "That's no problem mon, we have prescription goggles!"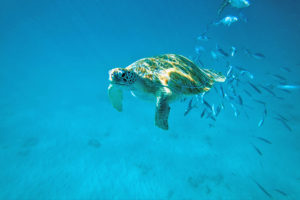 Before I knew it I was putting on a buoyancy vest and he was whisking me off the boat.  To swim with turtles was a sublime experience, knowing these creatures have inhabited the waters for decades. At the warmest time of the year they swim up to the beaches to lay eggs without putting pass on the tourists or locals.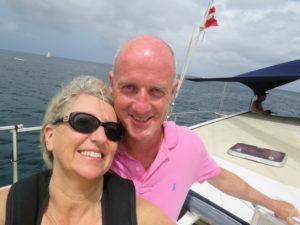 We were served a sumptuous buffet lunch with drinks flowing, after diving to the shipwreck for the second part of our adventure. So after lunch it was special requests as we pulled into Sandy Lane beach. There's plenty of time for sun-bathing and chatting with the others on the trip who hailed from all around the globe but of course many were from the US and Canada. My other half and I had to be dragged off the boat at about 3pm exhausted but still bopping to Bob Marley and some rather famous local dance tunes.
Chattel Houses at Holetown
This quaint shop area has been built to reflect the traditional Barbadian wooden homes, known as "Chattel Houses". Whether you're looking for local fashion, art, craft, souvenirs or gifts for your home, here is the place to be.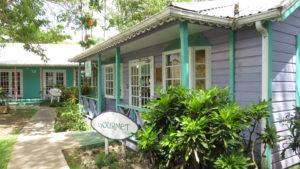 St Nicholas Abbey
This beautifully preserved plantation house has extensive grounds and a newly opened railway attraction that is well worth a visit. Jacobean architecture, named for King James I of England (1603-1625), was a transitional phase in English design; it merged the Tudor and Elizabethan styles with continental Renaissance influences, including Flemish, Dutch and French architecture.
Located in the hills of St. Peter, St. Nicholas Abbey encompasses over 400 acres of undulating sugar cane fields, lush tropical gullies, mahogany forests and formal gardens.
Cherry Tree Hill, located to the northeast of St. Nicholas Abbey great house, offers a commanding view of Barbados' rugged east coast shoreline, which may have given the area special meaning to the indigenous peoples of Barbados in prehistoric times.
Amerindian artifacts have been found in the limestone bedrock, indicating that the indigenous peoples of Barbados had exploited the forests and gullies around St. Nicholas Abbey for centuries before the arrival of Europeans.
https://www.stnicholasabbey.com/
Other sites to visit include Harrison's Cave http://www.harrisonscave.com/
Thinking of trip to Barbados? Check out this Package with Platinum Travel
https://www.platinumtravel.ie/
Barbados Sandals 7 nights & BA return flights package from €2425pp per person and includes:
Return flights
Round trip transfers
7 nights All Inclusive
Checked bags/taxes etc
Bonus Honeymoon offer includes:
Sparkling bottle of wine on arrival in ice.
First night turn down service with petals on bed
Breakfast in bed on the first morning with fresh flowers
+353 1853 5000
Michelle Jackson's books are available on www.amazon.co.uk for more information see www.michellejackson.ie Follow Michelle on @noveltraveller