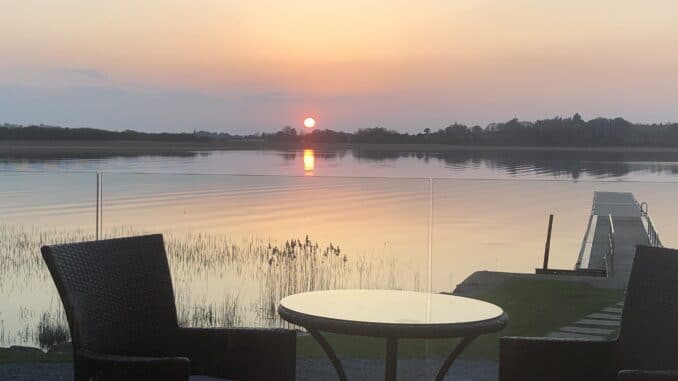 This week we are looking at retreats at home and abroad. I've picked out four delicious Spa retreats around the country with great food and other delights. I've also got three amazing destinations abroad that will completely rejuvenate your body and mind.
In Ireland many properties have spent the last year upgrading their facilities. I returned to see what they have done and start with one of my favourite hotels from Ireland's Blue Book.
In the middle of the country, Wineport Lodge is close to most places and it has the most perfect setting on Glasson Lake just outside Athlone. The hot tubs have been moved on to a jetty right on the lake and the spa has been developed to include an infinity pool and seaweed baths overlooking the Lake. The baths are priced at €55 for a 45 minute soak. The fabulous cuisine is as good as ever and our new room with high ceilings had a balcony to sit out and enjoy the spectacular view.
With super king size beds, under-floor heating and custom designed furniture we didn't want to leave. We treated ourselves to two nights stay at Wineport Lodge, breakfast each morning and a dinner to remember in the heart of the lodge.
Pricing for this offer varies depending on the choice of room and the date, however it starts from €350 a night for two adults sharing.
It's over three years since I've stayed at the Lodge at
Castle Leslie
in County Monaghan and it was wonderful to return. The Estate offers an idyllic setting for outdoor activity and adventure with over 1000 acres of countryside to explore on horseback or foot. You can spend a few hours
fishing
 on one of Ireland's best-preserved lakes. The rooms have individual names instead of numbers and they are all called after horses who have been owned at the estate. Last time we stayed at Tiffany, next door to Pluto and this time we had our own little terrace in a room named after Skylark. Bridles and paintings of animals decorate the cosy bedroom corridors but when you indulge in the Victorian Spa you will be transported to a bit of heaven. We spoiled ourselves afterwards with a soak in the hot tube that overlooks the equestrian stables.
Spa packages: 'The ultimate Indulgent Day'. This offer includes three 60 minute treatments. A Stone Therapy Body Massage for 60 minutes, a Reflexology Session and a choice of a Manicure or Pedicure. This package is €270 per person and treatments must be booked in advance of arrival.
Book a one night stay for two people at the Lodge with dinner in Conor's Bar for €255 midweek in May.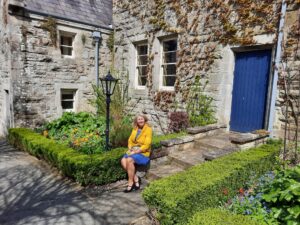 Castle Leslie is also perfect for horse riding as they a have great equestrian set up so you can add horse riding onto your trip. One Hour Hack: €55 Two Hour Hack: €75
One Hour Cross Country: €65 Two Hour Cross Country: €95
This wonderful family run hotel in Adare Co Limerick has seen the most incredible improvements to the property and most notable is the Revas Spa. A member of the Original Irish Hotels Group there is something to do for all the family. The petting farm is a big favourite for those with little ones. The hotel is situated on 44 acres of organic private grounds and landscaped gardens with farm to fork dining and a variety of dining spaces. The cool new outdoor dining experience at the
Treehouse
is a welcome addition that developed out of the time that the hotel was closed last year.
Package includes: An overnight stay in a luxurious room with Full Irish Breakfast and Choice of two mini treatments in Woodland's Revas Spa From €267 per couple.
T&Cs Offer valid from June 6th – October 31st 2022 and is subject to availability.
I've been singing the praises of visiting Northern Ireland for a long time and last year many people travelled up to the north for the first time and discovered its beauty too. One of the first properties I stayed at was the Killyhevlin Lakeside Hotel situated on the beautiful Fermanagh Lakelands – you can travel into Enniskillen by water taxi. The hotel itself has wonderful facilities and a few years ago they added lakeside lodges which are a great option if you want a self-catering total retreat option. The new woodland lodges have hot tubs to be enjoyed while surrounded by forest.
I've a special offer on my website with £15 off pps for a  two night stay at the hotel with a four course dinner on the evening of your choice and a spa treatment per person – from £215 pp if you use my code noveltravel15. (Was From £230pps Now £215pps)
This £15pps Off Keep Kalm 2 Night Spa Break MW May & June Sun-Thurs – must be booked 14 days in advance of arrival date (Exclusion dates apply Sun 1st May,  Monday 2nd May,  Tues 31st May, Wed 1st,Thurs 2nd June, Monday 6th June)
People are back travelling in full force and one of my favourites is Portugal. Great news today is that the passenger locator form is no longer needed to visit Portugal. Another piece of good news is that Aer Lingus will recommence flights from Cork to Faro this summer. Prices start from €58 each way. 
www.aerlingus.com
Pine Cliffs Resort on the Algarve has it all and just 30 minutes away from Faro Airport
This stunning resort has one of the finest spas winning best in Europe. They offer a great full body detox program to rejuvenate the mind, body and spirit. Serenity – The Art of Well Being at Pine Cliffs is a luxurious 1,100m2 haven of wellness complementing an exceptional core range of treatments and therapies using some of the world's leading spa products, the spa also offers authentic signature treatments, that draw inspiration from the indigenous cultures, healing traditions and ingredients of the Algarve. Also available is the first CBD spa treatment in Portugal. The innovative treatments based on cannabidiol (CBD) were created to provide you a truly relaxing experience. With analgesic and anti-inflammatories properties, this new therapeutic approach has several benefits for health.
The resort's Annabel Croft Tennis Academy features five full size ATP floodlit courts (two red clay and three acrylic), and a dedicated Academy team to help with everything from court hire and racquet rental to coaching courses and tournaments.
There are several options for accommodation such a villas if you are bringing the family or a hotel room if a couple of solo.
This year you can enjoy the celebrations for the 30th anniversary of the resort with a full moon adult only party in august and a jazz festival in May. There is lots going on throughout the year and of course it has a fine golf course for those who like to retreat with golf.
Costs start from two nights €390 including breakfast for two people in September.
If you'd like to try an exotic retreat then Morocco isn't too far away but you will feel like you are a world away at the Paradis Plage. This resort offers everything you need if you love chasing waves or practice Yoga. With the option of three yoga classes per day and everything to help you get on the surf board with qualified instructors. A wide range of restaurants on the resort site means you never have to leave but if you'd like to visit Marrakech your Sunway representative can sort that out for you.
Being 30km from Agadair means you will feel like you are on a total retreat. With rooms that are big enough to cater for your surf board there are several restaurants to choose from. I've a fantastic price with
Sunway Holidays
for this June from only €625pps
BodyHoliday is an entire concept and this is the ultimate break for the burnt out individual looking to take a total retreat. The aim is to change people's lives for the better through experiences, great food and a personalised program made for each individual guest. It's the worlds only resort to combine the pleasures of activities and opportunities to acquire skills to enhance the rest of your life.
St Lucia is an island in the beautiful West Indies with idyllic weather, calm turquoise seas and lush rainforest. Here, the unique confluence of Caribbean, African, English, and French cultures creates an exquisite blend of food, music, and traditions that will inspire and enchant you. During this all inclusive stay guests are given every assistant to improve their health and well being. The slogan is 'Give us your body for a week and we will give you back your mind'.
September Solo Occupancy Offer
Going out on 5th September for 7 nights from  €3,099 based on one adult travelling, including flights and transfer staying in Garden View room on All-Inclusive which includes:
Breakfast, lunch, afternoon tea and dinner daily / Unlimited premium brand drinks, selected wines and Champagne by the glass / A 50-minute spa treatment per day, including body wraps, massages, hydrotherapy and facials (excluding arrival and departure days) / Watersports including waterskiing, windsurfing, sailing, snorkelling, kayaking / Tennis, gym, archery / Yoga, Tai chi, Pilates, Zumba, a soft-adventure programme, sailing school and other fitness and relaxation classes.
https://www.platinumtravel.ie/destinations/caribbean/bodyholiday-st-lucia.html