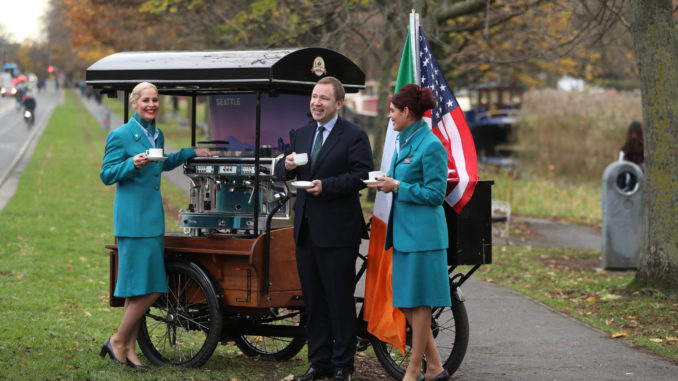 Seamless to Seattle – Aer Lingus launches new
direct route to North America
New route to Seattle brings the total number of new transatlantic routes launched by Aer Lingus since joining IAG Aer Lingus to six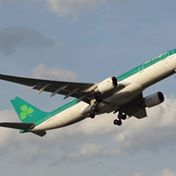 Aer Lingus to operate first ever direct service from Ireland to Seattle, the Emerald City 
Recent route additions mark the most significant expansion in the airline's history
600 new jobs have been created at Aer Lingus in the last three years as a result of this record growth, and plans over the next five years will add significantly to this number

Dublin, Friday 17 November 2017 – Aer Lingus today announced a new North American route from Dublin to Seattle, Washington State which will be Ireland's first ever direct service to the Emerald City. The Airbus A330 offering both business and economy class services, will operate four times weekly from May 18th, 2018 on Monday, Wednesday, Friday and Sunday.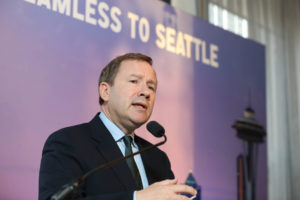 Seattle has strong business links to Ireland, boasting a vibrant technology sector which is home to some of the largest technology companies including Microsoft and Amazon, both of which have significant operations in Ireland. The Irish based aircraft leasing sector will now be connected directly to the home of Boeing and Seattle is also home to the world's largest coffeehouse chain Starbucks.
From a tourism perspective, Seattle, known as the Emerald City, sits between Puget Sound and Lake Washington on the Pacific Northwest. It is home to must-visit sights like the Space Needle, Pike Place Market and the Museum of Pop Culture and has a noteworthy musical history.
Largest ever transatlantic network
Since joining IAG in 2015, Aer Lingus has launched six new direct transatlantic services to Los Angeles, Newark, Hartford, Miami, Philadelphia and now Seattle, marking the largest ever transatlantic expansion in the airline's history.  Seattle adds 50,000 additional seats to the airline's transatlantic programme for summer 2018, with total 2018 transatlantic capacity now reaching more than 2.75 million seats.
Future Growth Plans
As a result of this record transatlantic growth 600 new jobs have been created at Aer Lingus. Last month saw the launch of a pilot recruitment drive to hire 200 pilots over the next three years and almost 3,000 applications were received for the first wave of 100 positions in October.
The airline's fleet and employment will expand significantly over the next five years with the acquisition of Airbus A321Neo long-range (LR) aircraft from 2019. This aircraft type will open up new markets, expand the network and enable a new growth phase for Aer Lingus.
Aer Lingus Delivers on North Atlantic Gateway Strategy
Strengthening its Dublin Airport base as a major European transatlantic gateway is a primary focus for Ireland's only 4 Star airline. This strategy delivers increased connectivity for Ireland which supports international trade and economic development, as well as growth in tourism. It also highlights the gateway connections available at Dublin from North America, UK and Europe, with the convenience of U.S Customs and Border Protection services at Dublin Airport.
From Seattle, Aer Lingus will offer 24 seamless connections, via the Dublin Gateway, to UK and European cities such as London, Paris, Rome, Brussels, Amsterdam and Frankfurt. British travellers will enjoy connections via Dublin to Seattle from cities such as Birmingham, Manchester, Glasgow and Edinburgh.
Speaking at the launch of Aer Lingus' Dublin Seattle route, Stephen Kavanagh, CEO said:
"We are delighted to announce Seattle as our latest transatlantic route for summer 2018. We believe this service will offer great value choices to our guests and further enhance Ireland's trade and business links with the U.S. Since joining International Airlines Group some two years ago we have grown and strengthened our Dublin Gateway to North America and we look forward to continuing this development in the years to come."
Fares to Seattle start from €259 each-way including taxes and charges, when booked as a return trip.
 Dublin -Seattle is Aer Lingus' 15th transatlantic route here are 15 fun facts about Seattle:
The city of Seattle has been inhabited for more than 4,000 years.
Coffee lovers rejoice, because Seattle is the original home of Starbucks, the largest coffee chain in the world.
Seattle has been ranked the top literate city in the USA.  They have the highest percentage of residents that hold at least a college degree.
The Public Library System in Seattle has the highest percentage of library card-holders (per capita) in the entire country.
Boeing became the largest employer in Seattle because of World War II, when the government of the United States suddenly found itself in need of quality airplanes.
When the Space Needle was built in 1962 for the Seattle World's Fair, it was the tallest building west of the Mississippi River.
The "Underground Tour" will show you that Seattle was built directly on top of the city that was affected by the fire of 1889.
Seattle's annual rainfall is less than that of Houston, Chicago and New York City.
People in Seattle buy the most sunglasses per capita than any other U.S. city.
Seattle is the birthplace of Jimi Hendrix.
Seattle was the first city in the US to play a Beatles song on the radio.
Second only to New York City, Seattle has the most live music performances in the USA.
More people bike to work in Seattle than in any other similar-sized city in the U.S.
The Washington State Ferry System is the largest in the country and the third largest in the world, carrying more than 25 million passengers each year.
Seattle's Pier 52 is the busiest ferry terminal in the United States.