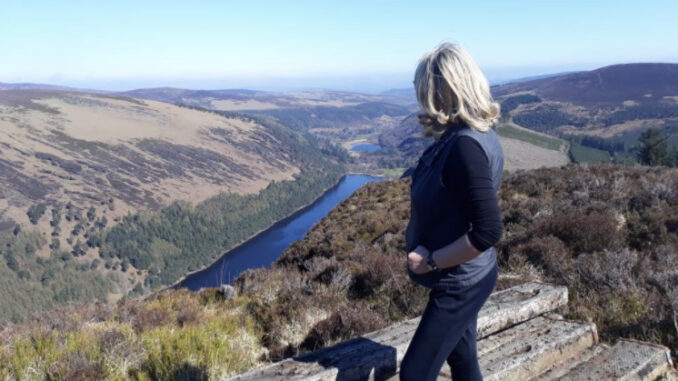 On this week's Elaine Show I've picked out some different walks and things to do outdoors in your county before Lockdown begins. Do check out the Discover Ireland website https://www.discoverireland.ie/for ideas and many counties have tourism websites so there may be somewhere you don't know in your own county or some place that you've put off seeing or just haven't bothered.
Leinster
Dublin – On the Northside the new boardwalk from Baldoyle to Portmarnock opened this summer making a lovely cycle and so much safer – you end at velvet strand and it's a spectacular view of Ireland's Eye and Lambay Island. https://visitdublin.com/see-do/details/portmarnock-beach
Go online and enjoy the Bram Stoker Festival Four days of deadly adventures at home it runs from friday 30th October to November 2nd 2020 https://bramstokerfestival.com/
check out this free event with Macnas that you can do in your own home
https://bramstokerfestival.com/sessions/macnas-at-home/
Wicklow – The Garden of Ireland has some of the most breathtaking walks to find new ones – follow Wicklow way guided walks https://visitwicklow.ie/top-trails-wicklow/
Seefin walk on the road to Blessington when you get to the top of it there is a megalithic tomb and you are on the border of Wicklow and Dublin – look out for the megalithic tomb
Louth – Go backwards on the magic road near Carlingford see https://visitcarlingford.com/ – Less than a 15 minute drive from Carlingford you'll find a place known locally as Magic Hill. There is a section of road that goes downhill and if you stop the car at the bottom and release the brake, the car will roll backwards up the hill! It needs to be seen to be believed. Everyone knows this is where the last Leprechans in Ireland reside – Kevin Woods has a leprechaun park but you can go hunting yourself in the beautiful Sleive Foy http://www.thelastleprechaunsofireland.com/
Meath – Trim Castle, Ireland's largest Anglo-Norman castle is a must-visit in the historically rich Boyne Valley in Trim, County Meath. It was constructed over a thirty year period by Hugh de Lacy and his son Walter as the home of the Lordship of Meath.
Trim Castle is a stunning Norman castle on the south bank of the River Boyne. This magnificent site experienced a renaissance in 2000 when it was opened to the public after being excavated and restored. The movie Braveheart with Mel Gibson was filmed at Trim Castle in 1995.
Access to the keep is by guided tour only for safety reasons. Visitors can learn more from interpretation panels and enjoy the impressive grounds of the castle. Grounds open from 9-30 to 4-30 free entry to grounds https://www.meath.ie/discover/heritage/heritage-sites/trim-castle
Wexford –  Take a trek to the top of forth mountain it has special views of the entire county – my dad is from this region and I was brought here as a child. Check out the wexford opera which has been making pop ups online for the last week… check them out on their facebook page https://www.facebook.com/WexfordFestivalOpera/videos/356106715832527 or on youtube https://www.youtube.com/watch?v=AcZmIcsKJtU  www.visitwexford.ie
Laois – Rock of Dunamase is a beautiful site to climb and have a picnic – Abbeyleix Manor hotel has a food truck – Abbeyleix board walk 8km two walks https://laoistourism.ie/
Kilkenny – Owned by Nicholas Moss pottery Kilfane Waterfall is gorgeous. Kilfane Glen is a tranquil oasis found in County Kilkenny, about 6km north-east of Thomastown. The Romantic-era garden was developed in the 1790s and includes a waterfall, woodland paths and contemporary art created specially for the site.
Influenced by Rousseau and the Romantic movement of the late 18th century, Kilfane Glen is a rugged but beautiful 6-hectare garden that has retained its original character as conceived by the prominent Power family in the 1790s. https://visitkilkenny.ie/
Carlow – Bahana Forest trail in St Mullins looped forest walk that goes along the Barrow River to see birds otters and squirrels and it end in St Mullins and there's a nice café that does takeaways. https://carlowtourism.com/
Kildare – Pollardstown Fen and walk through marshland- Kildare farm foods is great for a picnic and it's free to view all the animals. https://www.kildarefarmfoods.com/  
http://www.kildare.ie/tourism/attractions.asp
Offaly – Slieve bloom walking trails, Ridge of Cappard good for walking with panoramic views three circular trails to choose from – This is called the county of hidden gems and it really has many https://www.visitoffaly.ie/
Longford –  Derrycassin Wood is scenically located on the shores of Lough Gowna in Dring, County Longford and will make a lovely walk this time of year. The forest covers an area of 179 acres and consists of three recommended walks, the Nature Trail, the Walled Garden Walk and the Main Avenue Walk. Signposting onsite directs the walkers on the various routes but the visitor is welcome to explore and create their own walking route. There are a variety of tree species, wild flowers and fungi to admire although what you find will depend on the time of year you visit. There are interesting low linear hills that date back to the ice age and also the remains of a rath or ringforth dated between 500-1500 AD.
http://visitlongford.ie/listings/derrycassin-woods-walk/
Fiona Egan Cloughan Farm Cookery School and she is doing on line cooking courses for families. There is a fee. Check out more on Ireland's Hidden Heartlands https://www.discoverireland.ie/irelands-hidden-heartlands
West Meath – Moydrum Forest park – great for wildlife and a looped walk – Portlick on the shores of lough Ree – recommendations from Mike of Viking Tours Ireland who has a wonderful long ship that hopefully will be open again soon as restrictions allow it – https://www.vikingtoursireland.ie/
Munster
Limerick – Ballyhoura mountains offer stunning walks and trails and trail riders offer adventurous  biking http://www.trailriders.ie/ Go horse riding with Johnjoe at http://www.ballyhourahorsetrekking.ie/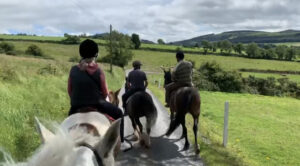 Clare – Loop head close to Spanish Point off the beaten path hidden gem – loophead walking tours Martin Haugh https://loopheadwalkingtours.ie/
Loophead Guided Walking Tours can show you some of the spectacular attractions on the peninsula.
All walks off the beaten track. We will take you to hidden beaches where you can go wild swimming, rarely visited cliff top scenery to rival the Cliffs of Moher, ruins of castles and churches dating back to the 10th century. Lighthouses, lookout tower, artillery battery and lots and lots of graveyards, holy wells and sunken ships.
Cork – Mallow Castle lovely walkways along the River Blackwater – https://www.mallow.ie/things-to-do
or further south –   The swallows have returned at Courtmacsherry so if you are feeling enthusiastic the seven heads walk with a 24km loop but you can do shorter one through the woods. https://www.discoverireland.ie/cork/gecko-adventures
Kerry – Clifftop walk in Ballybunion town itself and it is marked – there are a couple of beaches that you can see from the cliff you can't see from the road. In South Kerry check out https://kerrycliffs.ie/
Tipperary – Blue Suirway only launched last year – walk or cycle it's 21 km from clonmel to carrick-on-Suir check out more details on this link https://www.discoverireland.ie/tipperary/fox-covert-loop
Waterford – Lismore town and they great market on Sunday beautiful – picnic in the gardens the vault takeaway café and they have started serving a brunch box. https://www.discoverlismore.com/
We saw a fisherman wading in the river when we were there and I was blown away by the beauty of the town and there was so much to do.
Connaught
Galway – East Galway Portumna Forest Park is a Coillte park so you have the marina the lake and Connaught Harbour so there's lots going on. https://www.coillte.ie/site/portumna-forest-park/
Those lucky enough to live on the west coast should take a trip to Kylemore Abbey or drive the sky road in Clifden. Take a hike up to see where Alcock and Browne landed the first transatlantic flight over one hundred years ago. https://www.connemara.net/alcock-and-brown/
Leitrim –
Fowley's Falls in North Leitrim are stunning. The Organic Centre in North Leitrim are doing a virtual Halloween for 7-11 year olds making art out of nature. https://www.theorganiccentre.ie/shop/courses/Halloween%20Crafts
Project Earth are hosting two FREE online youth eco-art workshops to celebrate the harvest season so come join in this mid-term break! [2x sessions October 27th & 29th]
Suitable for young people aged 7-11yrs; part of the first workshop will be self directed and require access to an outdoor area to collect & create pieces using twigs leaves etc [your garden or local woodland] OR you are equally welcome to visit the magic areas around the Organic Centre to collect & create your nature art!
Activities will include making leaf 'fireworks', leaf rubbing & printing, twig 'skeleton' & twig/leaf mobiles, leaf animals & more!
Mayo –
Croagh Patrick bucket list – do it now and tick if off your bucket list – Go to the Ceide Fields – Ireland's first farmers settled here and prehistoric remains are Neolithic archeological site
Beneath the wild boglands of north Mayo lies a system of fields, dwelling areas and megalithic tombs which together make up the most extensive Stone Age monument in the world.
The stone-walled fields, extending over hundreds of hectares, are the oldest known globally, dating back almost 6,000 years. They are covered by a natural blanket bog with its own unique vegetation and wildlife.
https://heritageireland.ie/places-to-visit/ceide-fields/
Roscommon – The Castlerea Trail Time: 1 hour 30 mins
The Castlerea Trail is one of the shorter loop walks on the Suck Valley Way and a good way to start your hiking break with a great mix of history and scenery. Walk through the expansive Castlerea Demesne Parklands and you'll wind up at Clonalis House, home of the High Kings of Ireland. The majestic house has been restored and tours are available in the summer months.
This part of the Suck Valley Way brings walkers through a forest path, rich in greenery, taking you to the opposite end of Castlerea. Along the way, watch out for the resting place of 'Cindy the Elephant' who visited with a circus and strolled to one of the local pubs, a story worth telling. At just over 6km, The Castlerea Trail takes 90 minutes and it is described as moderately difficult.


Sligo – walk up to knocknarea mountain where Queen Maeve is buried and look down at the oyster farm and Coney Island you can walk over to Coney Island at low tide – sligo oyster farm tours are outdoor and still running so contact the lovely Aisling Kelly Hunter https://sligooysterexperience.ie/
Ulster
Cavan – Killykeen just outside Cavan town. Sean Thornton Cavan Adventure Centre – https://www.cavanadventure.com/home.htm The trip is amazing kayaking on to the Upper Oughter  Erne part of the Geo Park all the way up to the Fermanagh Border. It's an archipelago of islands and drumlin landscape and this year with autumn colours it is beautiful.
Donegal –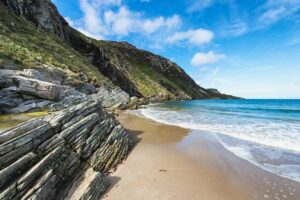 Maghera Beach and caves – The road to Maghera Beach and caves goes past the magnificent Assaranca Waterfall, which tumbles down into a rock pool and is the perfect backdrop for a family photo. The beach itself is just as impressive, with mountains all around and huge caves to wow both you and the kids. While the Castle is Closed 'Glenveagh National Park & Gardens' are very much open for business. Having spent all of Saturday here with family I can firmly say it's one of my favourite places in the world!
Monaghan– follow the Patrick Kavanagh trail – start out from Patrick Kavanagh's Grave at the village of Inniskeen – https://www.patrickkavanaghcentre.com/ read some poetry and get in the mood. The Monaghan landscape that shaped Patrick Kavanagh as a person and as a poet has changed little since his time. Take The Kavanagh Trail and walk in the poet's footsteps down the lanes, through the triangular fields and between the whitethorn hedges of Monaghan. https://www.patrickkavanaghcentre.com/kavanagh-trail/
https://monaghantourism.com/listing/the-patrick-kavanagh-trail-inniskeen/
To see more details check out https://www.discoverireland.ie/