Irish Castle Stays and Days Away
This week on Travel Tuesday as the country opens up and we have inter county travel to look forward to, I've gathered perfect stays and day trips to some of Ireland's loveliest Castles.
Malahide Castle is set on 250 acres of parkland just 10 minutes from Dublin Airport. The castle is now back open for daily tours, hear stories of the generations of Talbot Family who called Malahide Castle their home for nearly 800 years. Take a family friend on the Magical History Story Telling tour or the Classic Tour, where visitors can explore the private rooms and learn how the castle played a key role in Irish politics and social life in Ireland.
In addition, the private gardens including the West Lawn, home to a magical 1.8KM interactive fairy trail and the Walled Botanical Garden are back open for visitors to enjoy throughout the summer months. Visit the The republic of Irelands' only Butterfly House and over 5000 species of rare plants originating from places like Australasia and Chile.
Open daily from 9.30am until 6pm. Last entry to the castle is 4.30pm. Family ticket to the Fairy Trail and Butterfly House is €22 for 2 adults and 2 children. Family castle entrance and fairy trail tickets from €35.Tickets can be booked online at www.malahidecastleandgardens.ie or purchased on arrival at the admission desk, subject to availability
Set on gorgeous grounds
Castle

 

Leslie

 Estate
is opening on 3
rd
June with Bed and Breakfast from €250 per room. With its authentic interiors and old-style hospitality, the Castle at Castle Leslie Estate exudes old world grandeur and offers complete respite from the world. The Castle is not a typical hotel experience – you won't find televisions, radios, or minibars in the Castle bedrooms. However, we do offer all of our guests complimentary WiFi in all public areas and bedrooms in The Castle. The unique and dramatically different bedrooms are tranquil and calm – havens for sleeping and dreaming. The Castle is filled with beautiful furniture, antiques and heirlooms. It has twenty one original and uniquely decorated bedrooms and bathrooms. From romantic boudoirs designed with relaxation and privacy in mind to more flamboyant bedrooms decorated with rich deep colours, there's a room and a view to suit every taste.
Each bathroom is unique and features include the first plumbed bath in Ireland, a throne toilet and a complete bathroom hidden away in a doll's house. Some baths are fabulously large, ideal for a romantic soak for two. There is no pressure  to do anything except relax and indulge yourself.
Log fires crackle in the hearths and there are several elegant rooms in which you can relax in privacy or in the company of friends. Breakfast is served until eleven in the dining room. You can enjoy Afternoon Tea in our stunning Pavilion with its panoramic views of the gardens and Glaslough Lake or relax in the magnificent Drawing Room with its grand piano and famous De La Robbia fireplace. All these features combine making Castle Leslie Estate one of the most sought after luxury escapes in Ireland. 
https://www.irelands-blue-book.ie/houses.html/castle-leslie
Kilkenny Castle is the jewel in the crown of this enchanting Medieval City. No visit to Kilkenny is complete without visiting the world famous Castle. Few buildings in Ireland can boast a longer history of continuous occupation than Kilkenny Castle. Built in the twelfth century, Kilkenny Castle was the principal seat of the Butlers, earls, marquesses and dukes of Ormond for almost 600 years. Visitors can choose to explore the ancestral home of the Butler family with either a self-guided visit or a guided tour. The visit of the Castle includes the dining room, Victorian nursery and the picture gallery with its hand painted hammer beam roof.
Kilkenny Castle Parkland comprises of an incredible 21 hectares of land providing the ideal spot for a picnic no matter how big the family are!  The park also has woodland walks & a superb children's playground with swings, slides, bridges and benches for adults too and is open until 8.30 pm during the summer. Don't forget to visit the Rose Garden which is magnificent in the summer months! Find out what's happening in Kilkenny on https://visitkilkenny.ie/
Self Guided tour for a family is €20
For more information: www.kilkennycastle.ie
West of the Country
Markree Castle in County Sligo is close to Sligo town and a short drive to the wonderful surrounding sights of Sligo such as Ben Bulben, Knocknree and WB Yeats country. I've been a big fan of Sligo since I took a visit last summer and you've everything from surfing to seaweed baths and sumptuous cuisine. See sligotourism.com
Hallmark filmed in the castle for two months four years ago and Johnny Cash booked it out on 4 nights complete. This is where he and Sandy Kelly performed the Wood Carver song….also where the creator of the song 'All things bright and beautiful' was written by Cecilia Francis
See https://www.romanticcastlesireland.com/
Markree Castle – 2 Nights B&B with 1 Dinner
Midweek – 2 Nights B&B with Dinner on one night from €440.00 based on 2 people sharing
Weekend – 2 Nights B&B with Dinner on one night from €470.00 based on 2 people sharing
Set in beautiful wooded grounds Belleek Castle is beside the River Moy. Belleek Castle was built between 1825 and finished in 1831 for the cost of £10,000. The building was commissioned by Sir Arthur Francis Knox-Gore for the cost of £10,000 and . The manor house was designed by the prolific architect John Benjamin Keanes, and the Neo-Gothic architecture met the taste of the time, when Medieval styles became fashionable again. The house is thought to have replaced an earlier structure & is named after the original Belleek Castle, a 13th Tower House Castle situated on the banks of the River Moy. Francis lived at Belleek Castle with his wife Sarah and his 9 children until his death in 1873. According to his wishes he was buried in Belleek Demense. A striking Neo-Gothic Monument, designed by James Franklin Fuller, now marks his grave and is situated in the middle of Belleek Woods. It is said that his wife & favourite horse are both buried beside him. His eldest son Charles Knox-Gore inherited & became the 2nd Baronet. Charles died without issue in 1890 & was also buried in Belleek Demense beside the River Moy, and his dog Phizzie was buried beside him. The house was inherited by his sister Matilda who married Major General William Boyd Saunders of Torquay. Their grandson William Arthur Cecil Saunders-Knox-Gore sold the house in 1942.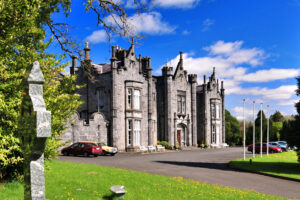 Best Bed & Breakfast rate from €90 per person
Summer Stay & Dine Offer
Stay in one of our spacious and elegant Manor Rooms furnished with antiques, some which have four  poster beds. Enjoy a 3 Course Early Evening Meal in Jack Fenn's award winning restaurant housed in the restored 19th Century Coach House. Relax with a drink in front of the large open fires in the Spanish Armada bar. Freshly cooked breakfast is included which is served to your room or in the Bistro.
From: €270 per night (based on one room with two people sharing)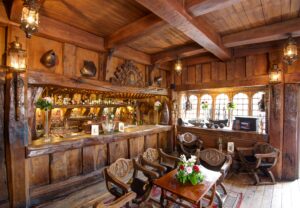 To book see Irelandsbluebook.com
Kilronan Castle Estate & Spa should be on your list of castles to stay at in Ireland. The luxury 4 star castle hotel is situated in County Roscommon in a secluded corner of the idyllic West of Ireland. Kilronan Castle resort welcomes its guests through a set of magnificent medieval gates at the top of a meandering driveway through an ancient forest which is surrounded by fifty acres of lush green estate and next to a beautiful lough making the castle look like something straight out of a fairytale.
TASTE THE ESTATE – 2 NIGHT PACKAGE at Kilronan Castle
Treat yourself to a well-deserved break away & enjoy 2 Nights' accommodation with Full Irish Breakfast each morning, and a delicious meal with a seasonal & locally sourced A la Carte Menu in our award winning, fine dining Douglas Hyde Restaurant, on the evening of your choice. All guests enjoy complimentary access to our Leisure Centre which includes a 14m Swimming Pool, Sauna, Steam Room, Jacuzzi and Techno gym.
Package from €235pps book with https://www.originalirishhotels.com/hotels/kilronan-castle-estate-spa
South of the country
Blarney Castle & The Blarney Stone will reopen this Saturday and only on weekends for the month of May with a view to fully opening in June. With 60 acres of wonderful gardens to explore including the poison garden and magical fern garden.
Best rate is available through www.blarneycastle.ie and no pre booking needed.
Adult Admission                                               €16 online (€18 at our ticket office on site)
Family (2 adults + 2 children)                      €40 online (€45 at our ticket office on site)
Takeaway café available on site and have a wonderful plants sales area containing some plants from our gardens!
The Rock of Cashel is one of the most spectacular landmarks in Ireland. Perched on an elevated limestone plain, overlooking the Golden Vale, it is an incredible sight to behold. The history of the rock implicates the Devil himself. The story goes that the Rock was originally part of a mountain that stands 30km north of Cashel (the Devil's Bit). During an epic battle between St. Patrick and the Devil, the Devil bit a chunk of rock out of the mountains. Afterwards in a rage, the Devil spat out the rock, which landed in Cashel. Once the traditional seat of the kings of Munster, it is one of the foremost pieces of Celtic art and medieval architecture in Europe.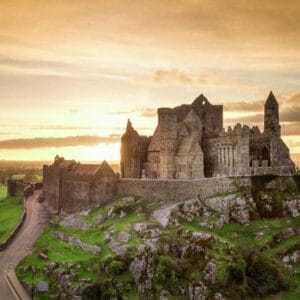 Most of its buildings date back to the 12th and 15th centuries. A truly remarkable piece of history, it is an integral monument in Ireland's Ancient East. A must see. For more about the Munster Vales and attractions see Munstervales.com
Access to Exterior only. Free Admission
Opening Times: 9.00 – 16 .45 (Last Admission)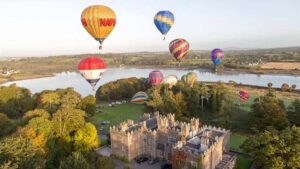 This year indulge and unwind on our private Island with a 2 night luxury break in one of our opulent Castle rooms. Experience a fine-dining meal served in our 2-AA Rosette Munster Room Restaurant on one evening of choice, and breakfast on both mornings.
This offer is available on selected dates throughout 2021.
A 2 night Castle escape with a fine-dining meal on one evening of choice, and breakfast on both mornings is €450 per room
The Resort consists of:
– 19 bedroom luxury 4 star Castle hotel
– 45 modern self-catering lodges
– 18 hole par-72 golf course
All set on a tranquil 310-acre private island that is accessible only by exclusive resort car ferry. The Resort is an Island getaway that's not so far away – centrally located just 10 minutes drive from Waterford City.
The Island Resort is truly unique, being the only one of its kind in Ireland. The 310-acre Island is home to a variety of Irish flora and fauna including red squirrels, foxes and badgers. At the resort you will find activities, from the playground and foot golf course adjoining the Lodges, to the Driving Range, Golf Course, Tennis / Basketball Court, Falconry, Clay Pigeon Shooting and various scenic nature trails, where you might be lucky enough to see the herd of wild Sika Deer who roam the Island!
For the Castle Hotel, we have our Regal Retreat package which is a 1 night stay including fine dining dinner and breakfast is from €389, Single rate for one night is from €179
For the self catering Lodges, the price of a 7 night summer stay is from €2,000
Set in Kerry Ballyseede is close to Tralee
Step back in time with a hotel steeped in history that offers luxurious surroundings and 30 acres of private gardens and woodland. The 2-star AA Rosette O'Connell Restaurant at Ballyseede Castle is renowned for serving beautiful food in magnificent surroundings, using Irish cuisine and the finest locally-sourced seasonal ingredients.
Accompany your meal with the finest wines – from the connoisseur, to the tasty table wine, there is a bottle for every palate.
With 45 rooms named after poets and presidents of Ireland it boasts a newly built orangery. Hilda lady Hilda Blennerhassett died in the castle she appears March leaving a smell of roses in the hallways. For bookings see https://www.romanticcastlesireland.com/
General opening times: Seven days, 6-8pm.
Ballyseede Castle – 2 Nights with Dinner
Midweek – 2 Nights B&B with Dinner on one night from €448.00 based on 2 people sharing
Weekend – 2 Nights B&B with Dinner on one night from €468.00 based on 2 people sharing