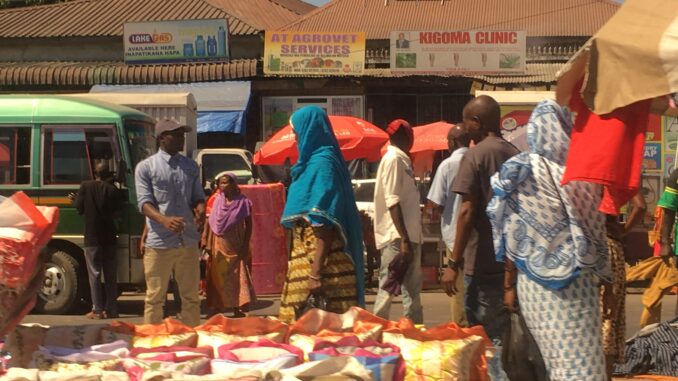 Africa Day on Travel Tuesday
Africa Day is the annual commemoration of the foundation of the African Union, which took place in Addis Ababa, Ethiopia on 25th May, 1963. In Ireland, Africa Day represents an opportunity to acknowledge a diffuse, diverse and important group of people from 50 African countries, who enrich and make a valuable contribution to Irish society. So this Travel Tuesday Elaine and I are taking a trip down memory lane to inspire future travels to this beautiful continent. I'll also be looking at how you can enjoy Africa a little closer to home.
There's so much to do in this beautiful country from Table Mountain to the vineyards Coastal Route. The history is amazing and Nelson Mandela's story inspirational – I recently watched his biopic the Long Walk to Freedom and was inspired as I had been at the Museum of Apartheid in Johannesburg.
Check out my article about South Africa which was shortlisted for the UK African Travel writer awards in 2019. https://thenoveltraveller.com/my-south-african-adventure/
If you're thinking of a trip to South Africa the official DFA advice at present is not to travel. However if you'd like to plan for a holiday in the future I have some suggestions with an Irish Agent that offers flexibility to chose the perfect package. Platinum Travel are based in Dublin and fully bonded so can protect you should your travel needs change. info@platinumtravel.ie
Experience an abundance of wilderness, wildlife and waterfalls on an eight-day Premium adventure through South Africa. Spend three unforgettable days in the Greater Kruger region, cruise down the Zambezi River at sunset, marvel at the show-stopping Victoria Falls and search for a wealth of elephants in Chobe National Park. From exhilarating game drives to nights spent under the stars, the glorious south of Africa has so much to fall in love with. This package is with Intrepid Travel  and includes a private Jeep, plane and boat and all dinners for duration of your stay. Travelling in February 2022 this premium package is €5098 based on two people sharing. www.intrepidtravel.com
In June 2017 I took a very special journey to Tanzania to visit my Auntie Frances who has worked in a school with her order the Las Santa Union nuns outside Dar Es Salem.
It's a vibrant fantastic city but not without its poverty and the sisters have been helping street children and the poor in this part of the suburbs. I was privileged to lead a class with these children who would normally be in a class of several hundred others in a state school.
Outside the city the beaches were stunning and ridiculously cheap to visit and stay there. I did have the joy of bumping into some Masai Warriors too. A safari is a must in this part of east Africa and you can enjoy a fabulous time with Intrepid Travel and dream of this perfect bucket list adventure.
Platinum Travel are taking bookings for special tours to South Africa for travel in 2022 and there is full flexibility with these bookings and you will be fully bonded should you not be able to travel.
Package with Intrepid Travel on a premium tour
Travelling in August 2022 Platinum Travel have a wonderful family safari for two adults and two children up to 17 years from €9,999
Explore the diverse Serengeti National Park on an exciting series of morning and afternoon 4×4 game drives. Village visits and cookery classes are included. Stay in premium hotels and tented safari with personal 4×4 jeeps. For more information:
Book with Platinum Travel +353 1853 5000
If history is important to you then Addis Ababa will blow you away.

It is home to the oldest human in the world, Lucy. This remarkable skeleton is housed in the National Museum of Ethiopia. Below is a picture of Elaine Crowley with the original remains.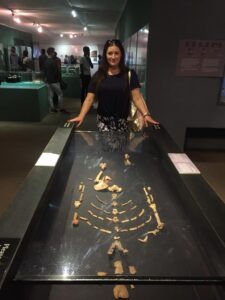 The skeleton of the granny of civilisation at the Museum of Ethiopia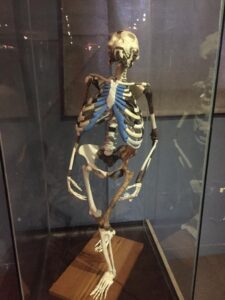 Ethiopia Package from Platinum Travel March 2022
13 days from €3499 pp  based on 2 sharing
Includes Flights, 12 breakfasts, 1 lunch, 5 dinners, Private vehicle, Boat, Plane. Accommodation for 12 nights and activities listed
Included activities
Lake Tana – Boat Cruise, Bahir Dar – Blue Nile Falls, Gondar – Market visit & cooking demonstration and Simien Mountains National Park. See the Yeha Temple at Aksum and visit Lalibela – Morning & Afternoon Churches Tour and Asheten Mariam Hike
Platinum Travel Guided and Escorted Tours
Here's a look at how we used to celebrate Africa Day in 2018 but for the moment all of the events are happening online.
With a whole range of activities to celebrate the day contact your local county council for details and watch out for news on social media websites for your local council.
Cork County Council will showcase a Hairbraiding Tutorial this evening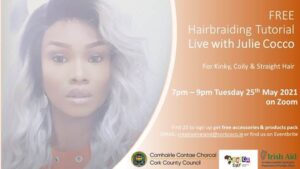 Meath County Council are offering a cookery demonstration and Fashion Show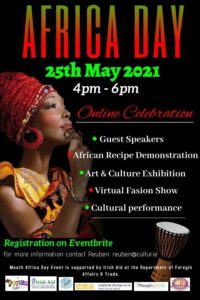 Galway City Council have activities this Saturday from 7-9pm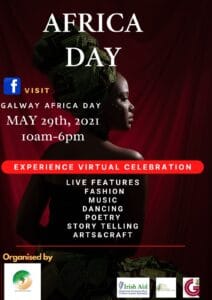 Dublin
If you want a taste or flavour of Africa in Dublin this summer then come to Dublin and book a visit to the zoo where you can visit the African Plains. Enjoy a Dublin Staycation in one of the Maldron city centre hotels which have a sale starting today for 72 hours and you can book a room including breakfast at any of their hotels in Smithfield, Parnell Square or Kevin Street from only €75.
The Maldron Hotel in Parnell Square is close to African food and hair shops – for the best African goods go to kimex and swords.  Maldron Hotels will have a –Dublin Flash summer sale with stays from €75 with Bed & Breakfast. The sale start May 28th for 72 hours so don't miss out!