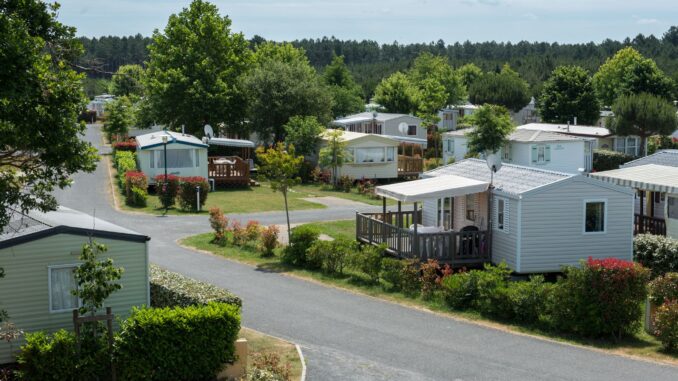 There's a palpable desire to travel looming in the air. I've received many emails from readers enquiring about ideas for family holidays this summer. When my children were younger planning a family holiday was something of a challenge with the success of the trip depending on everyone getting their needs met. That's why we used to go camping but instead of staying in tents we went to parks with luxurious mobile homes and facilities galore.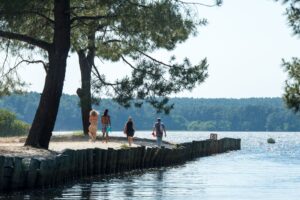 France has some of the best campsites in the world, which I discovered when we stayed at Siblu's campsite La Reserve, nestled in a forest on Lake Biscarosse. The shallow lake is great for water activities and swimming – especially with small ones in tow. La Reserve is close to the basin of Aquitane and the stunning beaches on the western Atlantic Coast. Not to be missed nearby is the Dune du Pilat which is Europe's largest sand dune. It makes a great day out and the kids loved diving up and down the massive sand dunes. Sunset is a great time to visit – just after a day at the beach. There's a small charge for parking at the dune but it's free to stay and climb www.dunedupilat.com/en/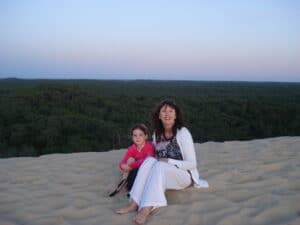 We flew into Biarritz – the surfer's paradise and romantic seaside town in Basque country. But La Reserve can be reached just as easily by flying into Bordeaux, only 75 minutes away. Some of our friends took their own cars on the ferry to fill up with crates of wine on the return. With French hypermarches being great value we bought some bottles of reasonably priced wines at the start of the week. As the week went on we twinned the wine with gorgeous French cheeses, Roquefort being my favourite, and savoured the tastings in the evenings sitting out on the deck of our mobile home. This is the best way to choose the bottles you want to bring back home.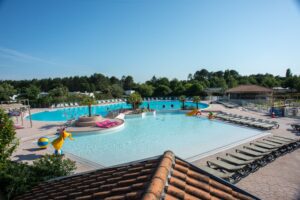 La Reserve and all Siblu campsites have their own supermarkets and are self contained for those who don't want to travel outside the resort. The range of restaurants meant we didn't cook at home every night and there was also a takeaway option. New friends were made daily by the kids, that they had met at the kids clubs which included water sports, arts and crafts and sports games on the many pitches.
In the evenings we sat under the balmy night sky covered in stars and were entertained with shows – some even included participation by the kids! The carefree nights were magical in this natural oasis but I'd recommend hiring a mobile home with air-conditioning if travelling in July or August as it does get hot. Some owners leave books and board games for guests and bikes which are great for the kids to get around the park. Staying in a campsite such as La Reserve offers safety on many levels and security on the entrance gates meant the kids were given a newfound freedom while roaming the campsite.
The quaint town of Parentis-en-born is a fifteen minute drive away and perfect spot to soak up rural French living – especially on market days. We savoured some delicious cuisine here in local restaurants which would cost a fortune in other parts of France. The fishing close by is another attraction and the area is cultivating green zones and eco tourism. Don't leave without spending a day in Arcachon – this buzzing town is filled with all the charm of a Victorian seaside resort and famous for oysters. If you do take the trip then stop off on the way at Coccinelle theme park which is especially friendly for little ones. www.la-coccinelle.fr/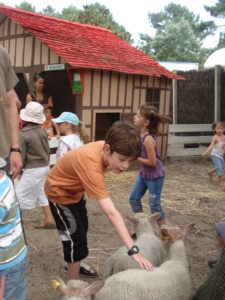 Siblu have over 20 campsites in France and two in particular are extremely popular with the Irish.
Siblu's Domaine de Kerlann is one of Brittany's best known holiday villages, with five superb sandy beaches within five miles, and the local town of Pont Aven is so pretty it inspired the artist Paul Gauguin. With the ferry port of Roscoff only a two-hour-drive away this will suit those travelling from Cork and surrounding counties.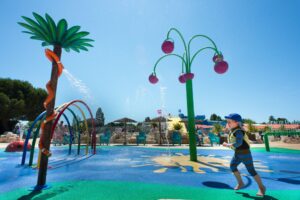 Les Charmettes, on the sunny west coast in Charente Maritime, is one of the biggest holiday villages in France, with a pool complex and entertainment set up to suit. There are indoor and outdoor pools with slides and fountains, tennis courts, kids' clubs for tots to teenagers, and nightly entertainment. The price of 7 nights' self-catering starts from €358 in June for four sharing – La Rochelle is the nearest Airport.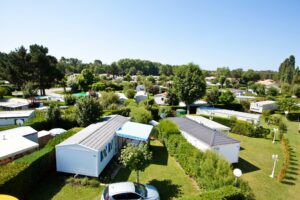 If you haven't tried a camping holiday before then this may be the perfect option for all the family young and old. Camping in France is the perfect holiday for balancing relaxation with action and since we've all learned to embrace the great outdoors over the last couple of years it ticks that option too.
Happy Travels Michelle
Top Tip. Do splash out on a top notch mobile home – you won't regret it. Enjoy the French countryside and don't forget to bring home some wine.
To book a holiday at La Reserve contact www.siblu.ie, or call 01 526 8658.
Travel by ferry with Irishferries.com or stenaline.ie with fares from €189 for car and driver and pets travel free