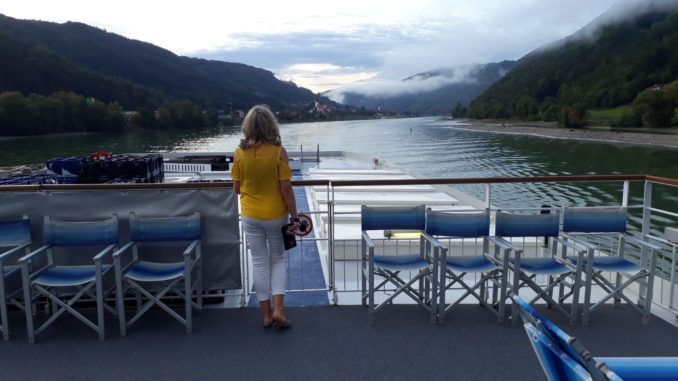 Newstalk River Cruise
October 2nd 2019
Listen back to the Podcast on The Hard Shoulder here Newstalk FM
This week we are looking at River Cruises. I took a trip with The Travel Department on a six day taster cruise starting and ending in Germany. (Niko cruises is dominantly German but they made every effort to facilitate all passengers with bilingual commentaries.) There are many cruise companies travelling up and down the rivers of central Europe to choose from.
Who would enjoy a river cruise?
A river cruise is a slow paced sightseeing trip ideal for those who want to visit lots of destinations but at a sedate pace so very suitable for older guests. One of the benefits of river cruising, especially on the scenic aspects of the Danube, is that travellers can take in the breathtaking views during the day while sitting on deck with a cold beer or glass of wine in hand. In the afternoon or evening as the ship pulls out of dock it is a lovely way to view a city from the water's edge.
What are the ships like?
Most river cruises are only three decks tall as they need to pass under bridges and fit into the various locks in operation making them extremely sturdy and steady. Our ship MS Viktoria was 126m long and as they are not too wide either, about 11.5 meters, it's possible to see both sides of the river from the communal areas in the dining room and bar. With on 180 guests on board facilities vary. On our ship there was a small gymnasium, sauna and whirlpool. One of the benefits for older guests was the close proximity of cabins to the dining area and bar however anybody who has cruised on a large ship and likes a wide variety of entertainment on board may be disappointed. The essence of river cruising is to soak up the landscape slowly…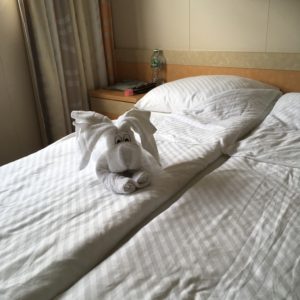 Food on board
As with most cruises the problem is keeping the pounds off and this was no exception. We were on full board and with the usual hearty buffet breakfast, no sooner was it cleared away than lunch was being prepared… Three and sometimes four courses that included a fish, meat and vegetarian choice with each menu. The menu reflected the places we had visited so when in Austria we had schnitzel and when in Budapest we had goulash. The staff were very friendly and accommodating. Price of a .5litre was €3.80 and a glass of wine was the same cocktails started at €5.80
I took the Danube taster Passau to Passau itinerary. I flew to Munich and stated out after a guided tour of the town which has been victim to a series flooding over the years. This part of Bavaria is on the border with Austria so very picturesque and rural. The grey of the Danube meets the green River Inn here and as it is only two hours from Munich it was the perfect place to start our trip.
Vienna
First port of call: A guided tour was included in our package with free time after, which could be spent at a concert or doing as we did and wander around the city. Home of Hundertwasser an architect and artist whose House is a major draw for photographers and tourists alike was our follow up plan and I was delighted to be bombarded by the work of the artist Klimt whose work is one of the high points  of the National Art Gallery. In fact beauty is in abundance in Vienna and it is also regarded as the number one place in the world to live for quality of living. The taxi driver who brought us back to the boat certainly confirmed. This city oozes charm with buildings such as the Rathaus and The Hofburg Palace which is home to the Sisi Museum and Spanish Riding School. I walked in the steps of the Habsburgs Emperors who ruled from here up to 1918. The Plague memorial is another icon sight to see and around the corner from St Stephens Cathedral. This is a good shopping area with a mix of cafes including Demel, opened in 1786 and where the Young Franz Josef 1 enjoyed cafe life. Not too far away is one of the most famous ice-cream parlours at Zanoni and Zanoni where one scoop is only €1.40.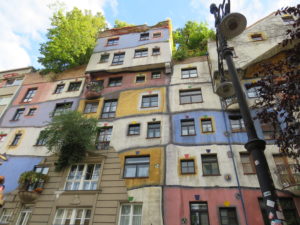 Vienna is a stunning city architecturally with a big cultural scene. The nice thing about following the cities that hug the Danube is observing the similarities and the connection between them historically. We weren't on board until late that evening so spent plenty of time in and around St Stephen's cathedral. (Not a cheap city but cheaper than Dublin)
Ryanair and Aer Lingus fly to Vienna
Budapest
Day Two: This city was for me the highlight of the trip as we sailed up the Danube and passed the parliament building which resembles The Houses of Parliament in London. Buda and Pest were once two cities where Buda with its fortified old town on top of the hill is now very much a tourist centre and Pest has developed into the beating heart of Budapest with wide avenues and the eclectic mix of Berlin or Paris. A guided tour of Buda Castle and Fisherman's Bastion was I ncluded in our trip which is a short walk from The Liberty Statue and best panoramic views of both sides of Budapest. Perched on Gellert Hill this statue stands 14m and represents the liberation of Budapest by the Soviets after the Second World War. Liberty holds a palm in her outstretched arms as her skirt and hair flow in the wind. As we sailed away from Budapest that night she stood like a lit beacon shining down on the city and was one of the highlights of the trip as our on board entertainment played and we enjoyed a glass of Prosecco.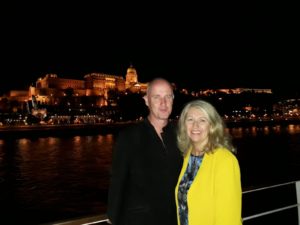 The Pest side is now home to 70% of the city and buzzes with cool distracts to enjoy cafe society and vibrant nightlife. We visited a ruin bar which is a must and there are many spread across the Jewish district in disused factories, shops and appartment buildings. SZimpla Kert is the original and one of the biggest of these bars which goes on into several different rooms and has oddities such as a trabant car in the middle of it. One of the rooms is for smoking Sish and guests can do this while sharing a bath with friends.
Shopping is good and cheap too and of course this is the medical capital of the world where you can get your teeth fixed and ailments relieved. It is called the city of Spas and also the City of Smiles. In fact dental tourism has become very popular and you can book packages with agents such as Kreativ Dental from Dublin https://kreativdentalclinic.eu/en/.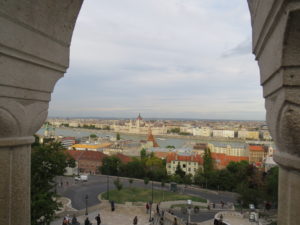 Aerlingus fly four times per week
Ryanair have daily flights to Budapest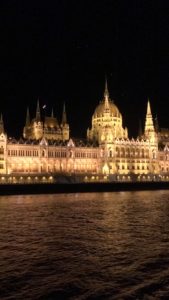 Bratislava
Day Three: The Slovakian capital was part of the velvet revolution and although the city has a strong socialist appearance with block skyscrapers filling the city, the old town is still very much intact and the perfect size to wander around for the afternoon. We strolled up to Bratislava Castle perched high on a hill close to the old town. Looking down over the river the UFO restaurant is another highlight on a suspension bridge.
The beer is also very cheap and we noticed more than one stag party. Culturally it has a beautiful opera house in the city centre and it can be described as a mini Vienna.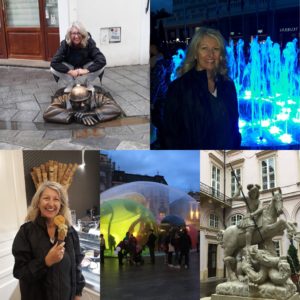 A Biennale Art show with various performances was cranking up as we left the city and I did feel this was a place that would make a nice weekend break.
Ryanair fly here  €24 end November one way six times per week expect wednesday
Melk
Day Four: Cruising through the beautiful Wachau Valley to reach The Baroque masterpiece of Melk Abbey was exceptional. Melk Abbey towers over this small Austrian town which was the unexpected delight of the trip. This tiny town is very accessible and we walked from the ship into the centre in minutes. No tour of monasteries in Austria, or Middle Europe, for that matter, would be complete without a visit to the magnificent Melk Abbey.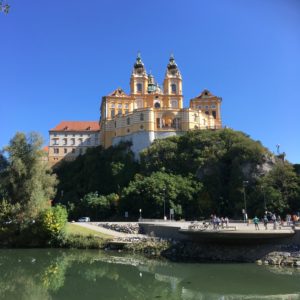 Abbot Berthold Dietmayr and his architects Jakob Prandtauer and Joseph Munggenast left no stone unturned in their quest from 1701 to 1736 to construct a sacred palace upon the foundations of a medieval monastery.
The centrepiece of this complex is the library, its main hall boasting 16,000 volumes and graced with a ceiling fresco by Paul Troger. A spiral staircase leads to another set of 12 library rooms not open to the public but containing more than 100,000 volumes, some of which are extremely valuable. It is easy to understand why the Italian writer Umberto Eco drew inspiration from this site for his novel "The Name of the Rose" in which a monastic library plays a key role.
The library is the second most important space in any Benedictine monastery, the first being, of course, the church. The most important Baroque masters were commissioned with the artworks: Antonio Beduzzi for interior design, Johann Michael Rottmayr and Paul Troger for the frescos and altarpieces, Guiseppe Galli-Bibiena for the pulpit and high altar, and Lorenzo Mattielli and Peter Widerin for sculptures. It is no surprise that the beauty of the church is breathtaking, as is the view from the semi-circular exterior terrace looking out over the Wachau Valley.
Munich
Ryanair and Aer Lingus fly daily to Munich
Day Five: Our timing was perfect to sample the Oktoberfest. This yearly festival runs at the end of September until the first week in October and expect to see locals and visitors dressed in leider hossen and damsels in frilly dresses.
What goes on at Oktoberfest?
It's a massive festival, with fairground, purpose built tents and wooden venues lined with tables of revellers. Food is served everywhere – famous chicken dishes and bratwurst of course. Pulled beef and pork burgers with waffles, pancakes and sweet treats. A large litre is €11,70 and you must tip the waitress if you want return service!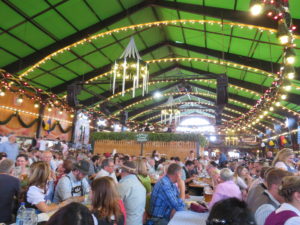 Munich is a buzzing city but watch out for the bicycles. There is a lesson to be learned from visiting and we witnessed a crash between a motorbike and bicycle. In the centre of the city, as bicycles take precedent over pedestrians, and you will be shouted at if you get in their way. The food hall is a must stop and important streets span out from the town hall and square at Marienplatz.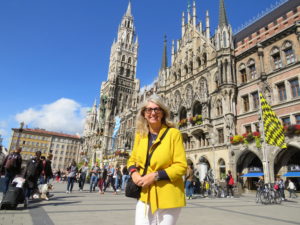 Travel Department
If listeners fancy travelling a bit sooner, Travel Department has a fabulous Danube Rhapsody River Cruise (Passau – Passau) departing on 27th October 2019. Listeners can avail of €50 off per person when they book before this Friday 4th Oct with the code VP-OCT50!
Danube Rhapsody River Cruise (Passau – Passau)
Departing 27th October 2019
From €1249pp (€50 off pp when booked before this Friday 4th Oct with the code VP-OCT50)
7 nights
As always, flights, transfers, full-board river cruise and excursions with an expert local guide are included
Ports of call including Vienna, Budapest, Bratislava and Munich
www.https://www.traveldepartment.ie/
Telephone Travel Department )1-6371650
If you are feeling adventurous why not try a Cruise of the Volga and get to see Russia traveldepartment.com/russiacruise 
€2,699 11 nights full board May 2020
If Egypt is somewhere on your bucket list then this cruise takes in all the sights along the Nile €1799 travelling in April and May 2020 for 12 nights
https://www.traveldepartment.ie/egypt-nile-river-cruise-incl-cairo-hurghada?dp=dub,ork,snn
One of the most popular River Cruises is Vietnam along the Mekong Delta. Travelling in April, August and September
€3,599 14 nights full board on cruise
https://www.traveldepartment.ie/mekong-river-cruise-vietnam-cambodia-holiday?dp=dub,ork,snn