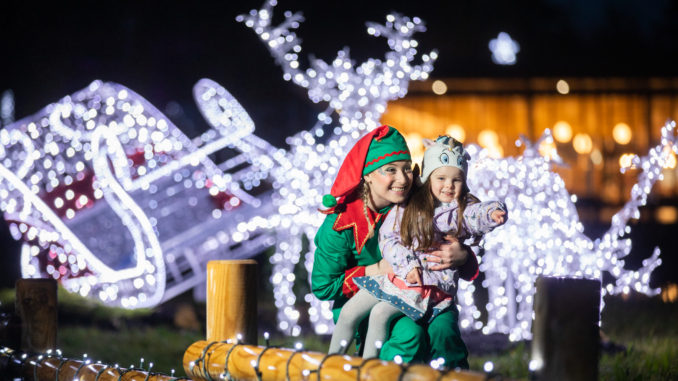 November 20th 2019
listen back to the podcast here
https://www.newstalk.com/podcasts/page/1/filter?filter_selected=show-filter&show=the-hard-shoulder&series=all
This week Ivan and Michelle chat about The Winter Wonderland at Center Parcs Longford and gathered some of the best Black Friday Travel Deals to be scooped up over the next two weeks.
What's happening at Center Parcs in the run up to Christmas?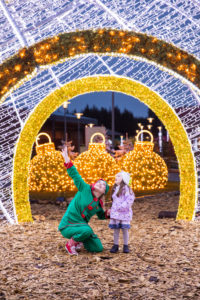 Dreaming of a white Christmas? Center Parcs Longford Forest has been transformed into a Winter Wonderland that will delight adults and children alike. From November, a magical experience awaits those staying at the resort – from light installations and Christmas-themed animatronics to festive woodland pony rides and Santa and his elves – the team at Center Parcs have pulled out all the stops to help Irish families create unforgettable memories and establish new traditions this festive season.
A team of 20 resident elves have been working around the clock for the past 30 days to ensure the resort is in tip top shape for Santa Claus, who arrived at the village by sleigh last night. For the next 46 days, Santa has swapped the North Pole for a lodge at Center Parcs Longford Forest where he will be in residence, welcoming children and their grown-ups to his Woodland Workshop.
Irish families will be walking in a winter wonderland this festive season – with 57,600 twinkling fairy lights, 3 tonnes of biodegradable snow, 462 metres of Christmas garlands and 52 metres of hanging icicle lights, guests are in for an awe-inspiring experience. The Christmas tree at Santa's Woodland Workshop, which is almost 10 metres tall, has been decorated with 19,000 lights and 4,450 baubles and its star has been illuminated by an additional 4,450 lights. Furthermore, the journey to Santa's Woodland Village is filled with festive family photo opportunities, a giant walkthrough Christmas bauble, singing reindeer and forest pathways filled with twinkling lights.
The magic doesn't stop there, those enjoying a short break at Center Parcs over the Christmas season can take part in a range of seasonal activities, including festive carriage rides, pottery painting and a Christmas roller disco.
To top it all off, a spectacular Winter Wonderland light and sound show will take place over the resort's lake during each short break. A first of its kind in Ireland, the 9-minute animation will be projected on to a wall of water and bring guests on a magical journey from the Center Parcs lake and woodlands, over the seas, spotting dolphins, fish and other creatures along the way, to the North Pole, the final magical destination where guests will see Santa Claus and a snowman.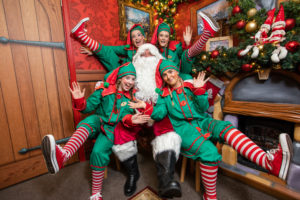 Short breaks to the enchanting festive experience start from €459 for a family of four. Christmas and New Year short breaks are also available, perfect for those who want to enjoy a home away from home this festive period. Guests have the choice to enjoy Christmas dinner in one of the resort's restaurants or cook a turkey with all the trimmings in the comfort of their cosy lodges, which are complete with a woodfire.  For more information about Winter Wonderland at Center Parcs Longford Forest or to book a short break, please visit www.centerparcs.ie.
* * * * * * * * * * *
Sunway Tour Operator
Sunway have something for everyone if you want some winter sun then this deal to Lanzarote is good value
Lanzarote
3*+ HL Paradise Island Hotel All Inclusive
January – April Departures – Save Up to 20%
7 Night Holidays – Was €611 pp – Now €499
Link to property : https://www.sunway.ie/sun-holidays/lanzarote-canaries/playa-blanca/hl-paradise-island-hotel/
Worldwide
Cancun ALL INCLUSIVE
RIU Cancun Hotel
Based on 2 share – 7 Nights, May Departure – T&C's apply
Was €1,350pp – Now €1199pp
https://www.sunway.ie/worldwide-holidays/mexico/mexico/
* * * * * * * * * * *
Airlines are getting in on the action too
Ryanair
Ryanair have a 'Cyber Week' of offers starting next Monday 25th November running up to Cyber Monday. Check out the daily deals on ryanair.com as there will be some amazing deals.
Before it even starts there is great value in December
BolognaItaly € 14.99 One way
Anyone thinking of going across the Atlantic needs to check out Aer Lingus website next Tuesday when they will go live with some super deals to North America – traditionally there have been savings as much as €100 but I will be going online next Tuesday to see what is coming up – they have even more links to the USA now and the west coast especially with LA, San Francisco and Seattle.
* * * * * * * * * * *
Direct ski
Andorra (from Dublin)
2* Frontera Blanca, Pas de la Casa
26th January 2020, €438 (4 share) Save €197 per person
Board Basis: Self Catering
Italy (from Dublin)
3* Livigno Ski Apartments
18th January 2020, €399 (4 share) Save €187 per person
Board Basis: Self Catering
Austria (from Dublin)
3* Schindlhaus Apartments, Soll
4th January 2020, €375 (4 share) Save €240 per person
Board Basis: Self Catering
These sensational offers are limited, so book early on directski.com to grab your Black Friday bargains.  Prices include return flights from Dublin, Cork or Belfast (depending on chosen resort), accommodation for 7 nights, resort transfers, rep service in the resort and generous luggage allowance.
Book your ski holiday online and save money. It's easy peasy, visit Directski.com
Offers are available until Black Friday 29th November, however, are subject to availability.
* * * * * * * * * * *
Siblu Camping France
Siblu Campsites are big and really well equipped. You wouldn't believe the standard of the mobile homes and I would always insist to have one with decking and of course air conditioning as it gets very hot in France – entertainment is excellent especially for kids with camps and lessons to do water sport and get out and enjoy the great outdoors…
http://www.siblu.ie/
SIBLU LAUNCHES 30% SCHOOL HOLIDAY DISCOUNTS IN BLACK FRIDAY SALE
Siblu Villages is launching a Black Friday sale with 30% savings at holiday villages across France. Discounts are available for seven-night getaways and include all of June and July. There are 18 family-friendly locations to choose between, from Normandy and Brittany to the Mediterranean coast. Siblu's holiday villages are multi-lingual and have large, life-guarded pool complexes, four children's clubs, more than 20 free sports and activities, plus live entertainment every evening. This deal is bookable only from November 29 to December 2, siblu.ie or call 01 526 86 58.
Siblu's Black Friday discounts include:
Domaine de Litteau in Calvados is just 45 minutes from Caen ferry port and a great base for discovering Normandy's fabulous beaches and historic attractions including Bayeux. Prices start from €535 during the summer school holidays, saving €228 in the Black Friday sale, based on four sharing from 4 July, http://www.siblu.ie/camping-domaine-de-litteau, 01 526 86 58.
Le Conguel is a hidden gem at the tip of the Quiberon peninsula in southern Brittany, on a spit of land that is just 22 metres across at its narrowest point and with nearby coves, sweeping sandy beaches and traditional fishing villages to discover. Black Friday summer holiday prices start from €565, saving €242, based on four sharing for seven nights from 24 June, http://www.siblu.ie/camping-le-conguel, 01 526 86 58.
Les Charmettes in Charente Maritime, on France's west coast, has indoor and outdoor pools and entertainment venues. Save €357 on summer breaks during the Black Friday sale, with prices now from €833 based on four sharing for seven nights from 11 July, http://www.siblu.ie/camping-les-charmettes, 01 526 86 58.
* * * * * * * * * * * * * * *
Click and Go
Click and Go are always great on value but these prices are incredible

Prague City Break in February 2020 from €119pp
Price includes:
3 nights in the 3 Star Charles Central Hotel, Prague, Czech Republic
1 x standard room on a Room Only basis
Return flights from Dublin to Prague
Airport taxes & charges
Disneyland Paris 2+2 in February 2020 from €269pp
Kids under 7 go free*.
From €269pp for the 2 Star Disney's Santa Fe Hotel. Price per person based on 2 adults and 2 children sharing for travel in February 2020.
Price includes:
3 nights in the 2 Star Disney's Santa Fe Hotel, Disneyland Paris, France
1 x standard room on a Room Only basis
Aer Lingus flights from Dublin to Paris
Disneyland Park Tickets included
Airport taxes & charges
*on selected dates in the Santa Fe or Cheyenne.
Offer ends November 27th 2019.
* * * * * * * * * * *
The Travel Department and TD Active Holidays
Great for the empty-nesters – Travel Department have a huge range of packages from
Customers can avail of:
€75pp off River Cruises departing in 2020, use promo code: VP-BLACKRIVER
€50pp off any holiday of 7 nights or more, use promo code: VP-BLACK50
€25pp off any holiday of 6 nights or less, use promo code: VP-BLACK25
These offers are available from 18th November – 2nd December online at www.traveldepartment.ie, by phone on 01-6371600, or in the travel store on Level 2 at Arnotts.
 Travel Department Beijing and Great Wall of China 
https://www.traveldepartment.ie/beijing-the-great-wall-of-china-holiday?dp=dub,ork,snn
10 Night Holiday
Half Board €1749
Travel on an Oriental adventure with this trip of a lifetime to China. This holiday will show you the best of what incredible Beijing has to offer. On your travels you will discover architecture from imperial dynasties, visit Buddhist temples and experience the city of Beijing and the famous Great Wall of China.
In Beijing you will explore its 14th century ancient city of the elite, stand where General Mao rallied his troops and stroll along the impressive Sacred Way, the burial place of Ming Dynasty emperors. You will also visit the Great Wall of China and have an opportunity to walk along a section of this incredible Wonder of the World. Combining ancient traditions, fascinating culture and centuries of history, this is a holiday that will leave you with memories to last a lifetime.
* 7 nights accommodation in China and 1 or 2 overnight flights depending on departure airport.
***Please note that all evening meals are included in the price of your holiday. These meals will be offered in your hotel or at a local restaurant. You will be advised on arrival of precise meal arrangement.
Customers can avail of:
€50pp off any holiday of 7 nights or more, use promo code: VP-BLACK50
€25pp off any holiday of 6 nights or less, use promo code: VP-BLACK25
These offers are available from 18th November – 2nd December online at www.tdactiveholidays.ie, by phone on 01-6371633, or in the travel store on Level 2 at Arnotts.
* * * * * * * * * * *
Classic Resorts
IF you're planning to get married in May then this might be the honeymoon for you to the Maldives with Classic resorts
Maldives
4* Coco Palm Dhuni Kolhu
10 nights Half Board from €2549pp
Travel May 2020
Includes:
Flights from Dublin including taxes and 1 checked bag
Return seaplane transfers and Representative
10 nights in a Ocean Front Villa on Half Board
Honeymooners receive a refreshing welcome cocktail on arrival. The couple will be provided with a bottle of Sparkling Wine & Tropical Fruit platter, as well as a Special bed decoration. The couple is also entitled to a Romantic 3 course candle lit dinner
Upgrade to All Inclusive from €958pp for 10 days
Quote ref: 90595
https://www.classicresorts.ie/holidays-to-maldives/coco-palm-dhuni-kolhu
* * * * * * * * * * *
Black Friday Camino Special
Our annual Black Friday 2019 Camino Special is back for limited time only! Enjoy €25 OFF per person for new bookings made between Friday 22nd to Friday 29th November 2019* on all CaminoWays.com, CanariaWays.com, FrancigenaWays.com and IrelandWays.com self-guided walking and cycling tours.
The Black Friday 2019 special can be combined with our 10% Early Bird discount so you'll get a fantastic deal for your 2020 trip. To claim yours, simply apply the code BLACKFRIDAY19 when booking your trip online at CaminoWays.com, CanariaWays.com, FrancigenaWays.com and IrelandWays.com.
Camino ways have spread out to destinations in Italy, Portugal and the Canary islands most recently but I think the most famous one has to be done and that is the last 100km of the Camino Frances into Santiago de compastela in Galicia Spain.
TRAVEL INSPIRATION
CLASSIC CAMINO: LAST 100KMS OF THE CAMINO FRANCES
A 7-night trip walking the last stretch of the classic Camino de Santiago route starts at €1400 for 2 people sharing, now only €1210 with Black Friday and Early Bird travel special, saving €190 (€95 per person). Price includes accommodation in selected accommodation, breakfast, 5 dinners, luggage transfers from hotel to hotel, holiday pack with practical information, as well as access to 24/7 support number.
More details: Classic Camino.
And Finally! If next year is the year you plan to do your first Camino – Book now with Camino ways and save €25 on every walk – if you use the novel traveller code you can save €20 year round!