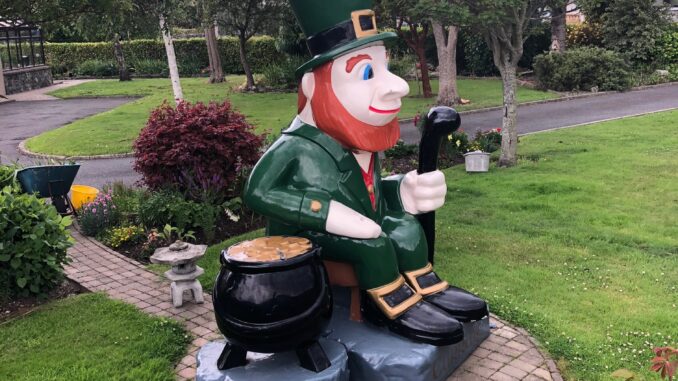 Elaine show Travel Tuesday July 14th
Magical places to visit where you might see more than just great scenery….around Ireland
This week we are looking at magical places to visit which are filled with legends and storys of fairy folk. The first place we are heading off to is Carlingford which is only an hour up the road from Dublin and can be enjoyed on a day trip if you just want to explore the area.
Known locally as 'McCoillte' Kevin Woods is Ireland's last Leprechaun Whisperer.
In 1989 a leprechaun suit, bones, and gold coins were found on Carlingford mountain in Co Louth Ireland. No one was more sceptical than the Whisperer and he organised a leprechaun hunt that year to try and catch one but none were found.
In 2002 he found the gold coins in a stone wall on Ghan Road which enabled him to communicate  with "Carraig" the elder of the 236 surviving leprechauns.
By 2009 they were afforded protected by the E.U.under the European Habitats Directive. In 2010 he published his first book "The Last Leprechauns of Ireland" based on their lives
The tour takes an hour and is indoors.
Cost  €8 per child and includes a  model Leprechaun to take home.
Adults accompanying children €4.00
Adults without children €8
Where to stay in the area?
I recently stayed at Ghan House in Carlingford which is a beautiful house built in the 18th century carefully restored and conveniently located in the middle of the town. B&B at Ghan House starts from €85 per person sharing. It can be booked by website www.ghanhouse.com  or through Irelands Blue Book https://www.irelands-blue-book.ie/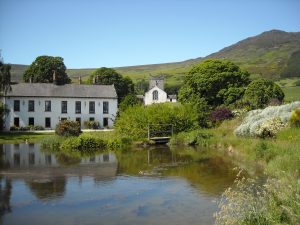 All 12 bedrooms benefit from great views – no road or car park in sight! All are decorated in the same manner as the Main House with family antiques and heirlooms. All have bath & power shower en-suite – except for one of the ground floor bedrooms which has an easy accessible 'wet room' power shower – please ask if you require this room (or you can book direct through 'Book now').
The beautiful dining room serves some of the most delicious cuisine I've enjoyed at one of the Blue Book Houses
Ghan House is a tree length from Medieval Carlingford, surrounded by 8 ft castellated walls with 3 acres of mature gardens and 8 acres of horse fields. Only a 45 seconds walk to Carlingford, yet private & quiet away from the central hub of Carlingford's Medieval streets.
************************
Northern Ireland
For some extra magic why not try a woodland walk exploring Hawthorn Hill Nature Reserve within Slieve Gullion Forest Park, County Armagh. A magical living storybook is brought to life through a trail of intertwined fairy houses and arts features creating a childhood land with dragons, giants and fairies. The Giant's Lair is inspired by legend and mythical folklore on over a mile of woodlands at Slieve Gullion Forest Park. Entry to the park is FREE
There are magnificent views of the Ring of Gullion mountains including Croslieve, Slievebrack and Mullaghbane Mountains from the path.
Route
The walk starts and finishes in the car park adjacent to the Slieve Gullion Courtyard Centre in Slieve Gullion Forest Park.
Follow the path uphill at the side of the children's play park. Keep to the left and continue straight uphill through deciduous woodland for about 750m until arriving at a forest track with a log bench on the right hand side of the path.
From this point magnificent views can be had of the Ring of Gullion Hills near Forkhill.
Keeping to the right, continue on the path back in to the woodland. The path continues for 850m, first uphill, before descending directly to the car park and start point.
Follow in the footsteps of Flynn the mischievous fairy, who has one important job – not to allow anyone to wake Slieve Gullion; It might look like a mountain but it's really a sleeping giant! Drop in for a cup of dandelion tea, grab a seat at the Giant's Table, stroll along to the Ladybird House and sneak a peek at local witchy trickster, The Calliagh Berra. The Giant's Lair captures a genuine sense of enchantment and mystery in the beautiful setting of Slieve Gullion Forest Park.
Situated beside the Slieve Gullion Adventure Playpark, with handy car parking available. The Giant's Lair is free to walk round and explore. The trail takes you into plenty of nooks and crannies so a backpack carrier or baby sling is recommended for tots.
These walks are situated in a working forest environment and may be subject to diversion and closure from time to time.  Up to date information is available on the Forest Service web site – link below.
Opening times – Giant's Lair and Adventure Playpark
1st April to the last weekend in October – 8am until 9pm
Last weekend in October to 31st March – 8am until 4pm
Newforge House, Co. Armagh
Dusk Til Dawn
From: £220 total stay.
Available Tuesday – Friday.
Escape for a night away in Ireland's Blue Book's "Dinkiest" Country House! Take a stroll in the gardens, watch the chickens in the orchard, read a book by the fire or simply get busy doing nothing.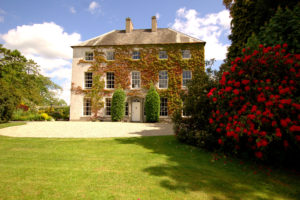 Set in 40 acres on the edge of the village of Magheralin, with views of mature gardens and green fields, the lovingly restored 18th century home offers peace and tranquility.
Newforge House, Co. Armagh 
Includes: An overnight stay in one of the bespoke ensuite bedrooms, the best "Ulster Fry" cooked to order, tea/coffee & homemade bakes on arrival and a 3-course dinner. 
Available Tuesday – Friday. 
Set in 40 acres on the edge of the village of Magheralin, with views of mature gardens and green fields, the lovingly restored 18th century home offers peace and tranquility. 
To Book: Visit https://www.newforgehouse.com or call +44 (0)28 926 11255
***********************************
Galway
Galway is laced with legends and wonderful characters many of who came out of Lough Corrib.
The Galway City museum has a fantastic exhibition about the mythology of the area
If you'd like to take the children for a day out to a special place then Brigits Garden is ideal
Brigit's Garden is a Garden & Celtic Heritage Center on the doorstep of Connemara.  Our Visitor Centre, comprised of The Shop and The Garden Café, is the perfect place for a break just 20km from Galway City.  Our 4 main gardens represent Celtic fire festivals and are surrounded by meadows sown with native wildflowers, a lake, a fairy fort, and native woodland paths.
Let the kids run off steam in our natural playground, and learn about science, history, and nature while completing our Earth Quest Trail throughout the Gardens.  They can visit the 12 science-based challenges around the Garden such as the water play-area or camera obscura geodesic dome, explore the woodland trail, duck into the stone chamber, or look for underwater life on the lake dock.
https://www.youtube.com/watch?v=HL16mR3hlHU
Places to stay in Galway – there are so many but I think Glenlo Abbey has to be one of my favourites. It is set on the banks of Lough Corrib which is the home to many myths and legends – Take a trip to the Galway City Museum to learn more. https://www.galwaycitymuseum.ie/
If you do fancy treating yourself then take a look at this gorgeous view of Glenlo Abbey which has one of the quirkiest restaurants in Ireland converted from a pullman train carriage.
Glenlo Abbey Hotel, Co. Galway
Includes: An overnight stay in the newly renovated 5-star Glenlo Abbey Hotel
                Four course gourmet dining experience in the Pullman Restaurant, originally part of the Orient Express
                Delicious cook to order breakfast
                 Relax in luxury with king size pillow topped beds, duck down duvets and Egyptian cotton sheets. Superior bathroom with power showers and The Handmade Soap Company amenities
From: €330 per room per night (based on 2 people sharing)
****************************************
Kerry
Glenbeigh is a small peaceful village at the foot of a well wooded mountain and close to the head of Dingle Bay. A gentle village in which to relax, framed by the Coomasaharn horse-shoe mountains to the south, Seefin to the east, Curra to the west and Slievemish to the North. It offers many places of great scenic beauty.
Known for its golden blue flag unspoiled Rossbeigh beach, which lies on the outskirts of the village. Rossbeigh beach is simply stunning: silver sands, wild blue ocean and… a white horse?
Keep your eyes peeled and you just might see one. It was from Glenbeigh that Oisín and his great love, Niamh, set off for Tír na nÓg (Land of Eternal Youth) on the back of a magical horse. Stroll along the strand and you might wonder how Oisín could have left all this behind – the land of eternal youth could hardly have been more breathtaking than the views of the shoreline and Seefin Mountain
Right next to the beach is probably one of the best located kids playgrounds (its an all weather playground) you are ever likely to see. The playground is very aptly named Tir na Nog . In ancient Irish folklore many Fianna legends centre around the village of Glenbeigh as it was also where Diarmuid and Grainne are believed to have spent some days hiding in a cave in the valley of the Behy.
Where to stay on the Ring of Kerry
You could start in at Randles Hotel Killarney and travel the coastline to visit Glenbeigh.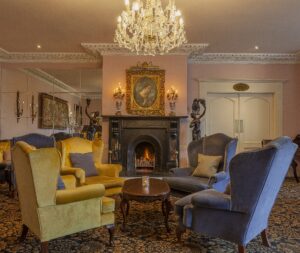 Randles Hotel Killarney – Combining the elegance and comfort of a manor house with the relaxed informality of a boutique hotel, Randles is uniquely accommodating. Located just five minutes from the charm and bustle of Killarney Town and its breathtaking National Park, Randles combines the Glenbeigh is a small peaceful village at the foot of a well wooded mountain and close to the head of Dingle Bay. A gentle village in which to relax, framed by the Coomasaharn horse-shoe mountains to the south, Seefin to the east, Curra to the west and Slievemish to the North. It offers many places of great scenic beauty. Here's the link to the offer for a one or two night break
1 Night stay from €149
2 Night stay from €289
Rates based on two people sharing.
This offer is valid: Valid until end of September. Subject to availability
https://www.originalirishhotels.com/offers/experience-our-nature-at-randles-hotel-killarney
**********************************
Clare
Cliffs of Moher Break
The Legend of the Hag and Cú Chulainn
A witch named Mal fell deeply in love with Cú Chulainn, the legendary member of the Red Branch, the warrior band of the High King of Ulster. Unfortunately for the Hag, Cú Chulainn did not return her love. Mal would not be denied and began chasing Cú Chulainn all about Ireland.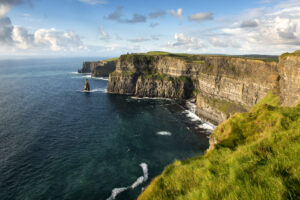 Cú Chulainn ended up south of the Cliffs of Moher, on the mouth of the Shannon River. Cú Chulainn leaped to the island known as Diarmuid and Grainne's Rock.
Mal continued the chase and luckily was carried by a gust of wind as she leaped for the island. Cú Chulainn quickly leaped back and Mal, with the false confidence from the last jump, leaped again but fell short without the help of wind. Mal crashed into the rocks and her blood reddened the bay giving some cause to assert that Malbay was surely named after her.
The rocks, now named Hag's Head, was said to take the shape of Mal's profile and remains visible to this day.
Where to stay in Clare?
Idyllic Country House Hotel near the Cliffs of Moher, on the edge of the Burren in County Clare. Located on the edge of The Burren in Lisdoonvarna, Co Clare, Sheedy's offers a warm welcome, traditional hospitality and award-winning cuisine.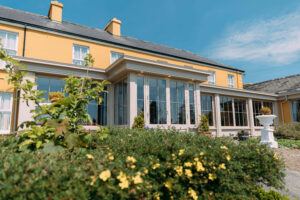 Cliffs of Moher 2 Night Stay –
Enjoy 2 Nights stay at Sheedys Hotel and Restaurant (just 10 minutes drive from Cliffs of Moher)
Freshly brewed tea and homemade cookies upon arrival
Freshly cooked breakfast served to you each morning
Full dinner from our A La Carte dinner menu on one evening in our Restaurant which holds Two Rosettes from AA
Entry for two persons to the famous Cliffs of Moher
€210 per person sharing a Twin or Double room.
*********************************
Waterford
Finally this is a lovely day trip for all the family to enjoy the beauty of Congreve Gardens with a nature trail where you will undoubtedly see all the beauty of nature.The seventy acres Mount Congreve Gardens in Waterford have launched a brand new seasonal Nature Trail for children.
The trail offers families an abundance of nature to explore and to ensure that younger visitors engage with the flora and fauna on offer and has been created offering the little ones 15 different questions and challenges as they meander the walking trails amongst the world-famous gardens located just outside Waterford City.
The new looped Nature Trail walk will keep everyone happy, with a buggy-friendly path smaller tots can snooze while older ones enjoy the series of questions for them to solve along the way. In total, the Nature Trail is a 1.5km walk and can be completed in approximately 40 minutes. The little ones can fill in their nature trail answers on the back of their map along the way in order to complete the challenge.
The gardens at Mount Congreve consist of intensively planted woodland gardens, a four-acre walled garden with 16 km of walking trails. The gardens are located 10 minutes from Waterford City Centre overlooking the majestic River Suir.
The new Nature Trail is included in the Mount Congreve Gardens ticket price and will be available from Saturday, July 11th. The gardens are open from Tuesday to Sunday from 11 am to 5.30 pm. Last entry to the gardens at 4.00 pm. Tickets must be booked in advance, for further details see https://mountcongreve.com/