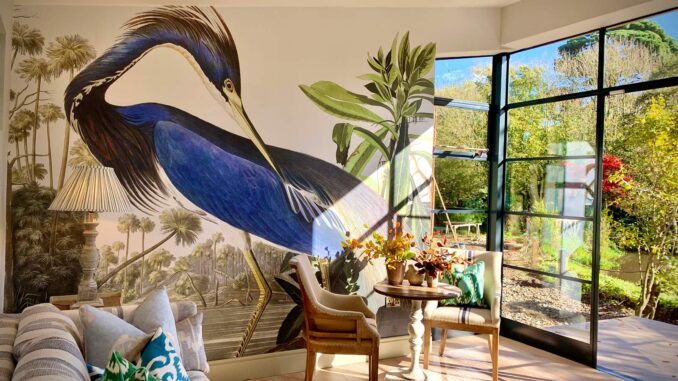 Ireland's Blue Book Staycations with a difference
The Pond Suites at Marlfield House, Co. Wexford
Marlfield House is renowned for its lavish and warm hospitality and has long been recognized as one of the most celebrated luxury hotels in Ireland.
An Oasis of tranquility and charm this luxury country house hotel in Ireland has a refreshingly relaxed and welcoming atmosphere, mirrored by the courtesy of the Bowe family and their dedicated team. Marlfield first opened its doors to guests over 40 years ago and is a member of the prestigious world wide Relais & Chateaux luxury hotel group and Ireland's Blue Book.
The Pond Suites are located overlooking the pond, in a lush, wooded setting of mature oak trees and ferns. Encompassing large open plan interiors of 50m2, with patio doors onto a private terrace, they are the epitome of a modern, luxurious country house experience, in the most private of settings.
From the woodland and russet colours of The Fox, exotic greens and blues of The Peacock, the striking Blue Heron and The White Heron, each has its own distinctive character. A large bathroom with a free-standing bath sits under a round picture window, walk-in shower, double sinks & separate WC. You will experience plush, luxe interiors encompassing eclectic & bespoke furnishings & modern amenities & fittings.
Price: Bed breakfast and dinner rates starting from €249 per person sharing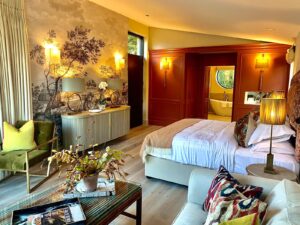 The Cosy Cabins at Dunbrody House, Co. Wexford
The cosy cabin offers guests a back-to-nature woodland retreat for those seeking to get away from urban life and experience a more relaxed private option to the main hotel accommodation. Set in the woods beside near the Dunbrody herb garden the only sounds you'll hear are the birdsong and cattle lowing. Overlooking the valley down to Arthurstown Harbour the cabin is decorated New England style with one double room and two singles, a lovely open space to sit and relax and a gorgeous terrace from where guests can watch the sunset through the trees.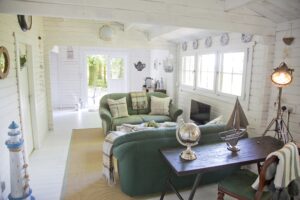 Only a stone's throw from the main hotel you can still enjoy all the facilities and choose to dine in the restaurant, sip cocktails on the terrace of the seafood bar or head to the pub for a more casual vibe.
Although the cabin is not self-catering breakfast is offered as an additional option in the Harvest Room Restaurant.
Price: From €150 per night sleeping up to four people.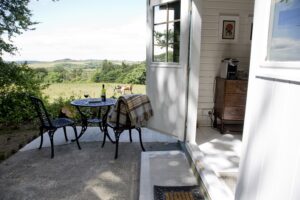 Longueville House, Co. Cork
Longueville's beautiful view of the Blackwater Valley belies a turbulent history. The oldest section of this house was built in 1720 by the Longfield family, who always maintained they were of French extraction and not Cromwellians.
Current day proprietor William O'Callaghan is a descendant of original owner Donough O'Callaghan. Donough fought beside the Catholics after the collapse of the 1641 Rebellion and forfeited the land to Cromwell. At this time, when Richard Longfield was created Baron Longueville in 1795, the family changed the name of the estate to Longueville.
Longueville House is available for you to rent exclusively for as long as you wish! This gorgeous house usually accommodates groups of up to 18 guests. Should your party require more bedroom space we can accommodate an additional 11 guests by special request – a total of 29/30 guests.
We also offer another smaller 5 bedroom property next door known as The Courtyard Mews taking small groups of up to 10 guests should your party extend to a grand total of 40 guests between the two houses. Rates are €486 for the mews per night for ten people
Dunowen House, Co. Cork
Dunowen House is a luxury 18th-century property on the Wild Atlantic Way, close to Clonakilty. Surrounded by private coves and beaches, guests get the chance to totally experience West Cork. Carefully restored, it showcases its unique rock and roll heritage, as the former home of Noel Redding, bass guitarist with the Jimi Hendrix Experience. A music room is dedicated to memorabilia, vintage posters and music magazines. When you stay it is yours exclusively – ideal for families, friends, celebrations and events. Dunowen offers the comforts of a luxury small hotel with the privacy of a country estate. Private catering available.
The main house at Dunowen sleeps max 18 people here are the prices:
Weekend celebration 2 night stay & dinner party from €175 per person
2 night self catering from €2,000
Weekly rates:
Low Season from €3,600
High Season from €4,000
*  * * * * * * * * * * *
Woodland Huts at Virginia Park Lodge, Co. Cavan
Originally built as a hunting lodge for the first Earl of Bective, Lord Headfort, one of Ireland's richest men.
LOCATED 20 MILES AWAY FROM HIS PRINCIPAL RESIDENCE, HEADFORT HOUSE, IN KELLS, THE LODGE WAS INTENDED AS A COTTAGE-STYLE HOME FROM HOME, INFORMAL IN LAYOUT BUT STILL LAVISHLY DECORATED WITH THE FINEST SILVER, CHINA, AND FURNITURE.
on the edge of Deerpark forest at Virginia Park Lodge, these bespoke handcrafted luxury Shepard's huts are glamping at its best.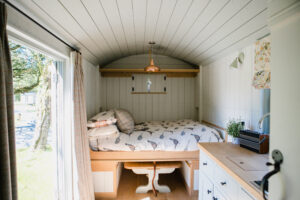 Steps lead up to French double doors with solid oak flooring throughout, open plan living at its smartest, the huts feature a built in dining area that seamlessly converts to a super comfortable double bed. There is a Shaker style fitted galley kitchen area with Neff hob, kettle & fridge. The hut features a good size wardrobe with plenty of storage space and a full standing fitted shower and toilet.
Price: From €140 per hut per night, bed and breakfast.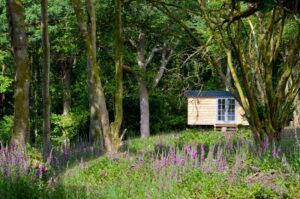 The Potting Sheds at Enniscoe House, Co. Mayo
Situated on the lovely Enniscoe House estate near Crossmolina, Horse House One and The Potting Shed are a wonderful choice for a self-catering holiday in County Mayo.
Horse House One is a three-bedroom self-catering holiday cottage. It is a new conversion of an old building situated in the courtyard behind Enniscoe House and The Potting Shed is two bedrooms and the cottages overlook the walled garden. Guests will find a sitting room with an open fireplace and double doors opening onto the garden and woodland area behind the courtyard.
The Potting Shed is furnished in a simple farm-house style, but it is comfortable and attractive.
Enniscoe Estate is ideally located near the renowned fly fishing and game angling waters of the West. The region also offers splendid heritage sites, hiking, cycling, golfing and horse riding.
From €480 per week.
https://www.enniscoe.com/index.html
The Courtyard Cottage Suites at Tankardstown House, Co. Meath
The cosy courtyard cottages are beautifully appointed and open out onto the courtyard complete with fountain and access to the walled garden where the hot tub and small summer house are located. Each bedroom within the suites have its own ensuite bath/shower room, whilst an easy seating area downstairs is perfect to relax and enjoy the peaceful surrounds. Well behaved four legged family members are also welcome to Tankardstown House, in the dedicated dog-friendly courtyard cottages.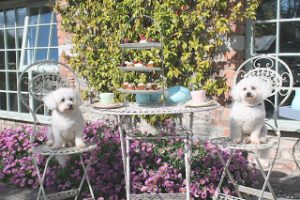 Price: From €260 per room per night