Get your OM On with TD active Holidays Yoga Escapes ….Portugal, Croatia and Sri-Lanka 
This came to me today by email and I just had to share it as I am dreaming of taking a yoga retreat right now to some sunnier clime. TD active and Travel Department offer wonderful packages and it is important to rely on a travel operator for future travel. See if any of the retreats below appeal….With yoga studios closed and the boom in zoom classes, wellness and yoga has become an important part of many peoples' pandemic journey.
TD active Holidays has just launched their 2022 Yoga holidays in partnership with Moons Yoga and also have some availability on late 2021 trips, when we can travel again.
Get your OM on and relax and connect with TD active Holidays in The Algarve, Croatia and for the first time Sri Lanka.
The Algarve
Immerse yourself in sunshine and serenity and travel with TD active Holidays on a unique yoga holiday that will allow you to unwind while discovering the beautiful natural surroundings of Portugal's southern coast on a 3-night Yoga Holiday staying in the seaside village of Sagres.
Ground yourself with a welcome 'Slow Flow Stretch' and meditation and enjoy twice daily yoga sessions, all led by an expert teacher from MOONS Yoga.
You will have plenty of time to explore Sagres at your own pace in between sessions and with a day at leisure to enjoy walks along the coast, take a surf lesson, or simply bask in the tranquility of your surroundings.
With a year round superb climate, fantastic beaches and dramatic landscapes, the Algarve is the perfect backdrop for a relaxing and reviving yoga holiday.
Throughout this guided trip, your vinyasa/hatha practice will be varied and themed per day and all yoga sessions will be open level. The Holiday will focus on slow mindful, movement with stronger holds. Variations will be offered to intensify or soften each of the poses.
This TD active Holiday includes return flights to Faro, transfers , 4* hotel on a B&B basis and yoga practice.
Book your trip from €829pp
Departs 21st April 2022  and 15th Sept 2022
For more information www.tdactiveholidays.com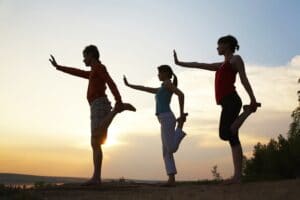 Croatia Yoga Holiday
Join a like-minded small group on this 5-night yoga holiday staying one night in the historic city of Split and 4 nights in a secluded resort on the stunning island of Hvar close to pine forests and the gorgeous Adriatic.
All 7 yoga sessions will be led by a highly qualified teacher from MOONS Yoga and a yoga mat will be provided locally. Between sessions there will be free time to enjoy walks along the idyllic coastline, relax by the pool, rent a bike or simply soak up the atmosphere.
The vinyasa/hatha practice throughout this holiday will be varied and themed per day to keep it interesting and all yoga sessions will be open level with a focus on slow mindful movement with stronger holds.
This holiday includes return flights, transfers, 1 night bed and breakfast in Split and  4 nights on a half board basis in Hvar and your yoga sessions.
Book Your Trip From €899pp
Departures on 4th September 2021 and in 2022 on the 13th May and 13th September
For mor information: https://www.tdactiveholidays.com/holiday/croatia-yoga-holiday
Sri Lanka Yoga Holiday
For the first time with TD active Holidays you can experience the incredible island of Sri Lanka on this unique 11-night yoga escape.
Discover the perfect blend of natural beauty and mindful movement beginning with a day exploring Sri Lanka's fascinating capital city of Colombo with a local expert guide before escaping to the south of the island for a 7-night Yoga retreat with MOONS Yoga.
Between Yoga sessions, you'll enjoy time to swim in the Indian ocean, take a surf lesson, snorkel the nearby reefs, rent a bike, or just relax and enjoy the beach. You'll also visit Sri Lanka's largest Buddha statue and a local Buddhist temple in Dickwella.
The yoga practice on this holiday will be vinyasa/hatha and the 9 sessions will focus on slow, mindful movement with stronger holds. Each day, you'll explore different themes to keep the practices varied and interesting..
Please note that visas are required for travel on this tour.
Book Your Trip From €2,649pp – all travel and accommodation, expert guides and yoga sessions are included.
Departures on 17th November 2021 and 30th March 2022
For more information: https://www.tdactiveholidays.com/holiday/sri-lanka-yoga-holiday
TD active Holidays' excursions are carefully crafted to uncover wonderful places – less crowded and expertly guided. There are smaller groups sizes and the highest possible safety standards on all their tours.
TD active Holidays has updated all its safety protocols and promises to continue to do so, so that holidaymakers can travel with confidence both this year and next. They are also continuing to offer customers the flexibility to change holidays for free or swap deposits for a voucher with no expiry date, right up until when their balance payments are due. This offer is available for all bookings up to 31st May 2021 and gives much reassurance.