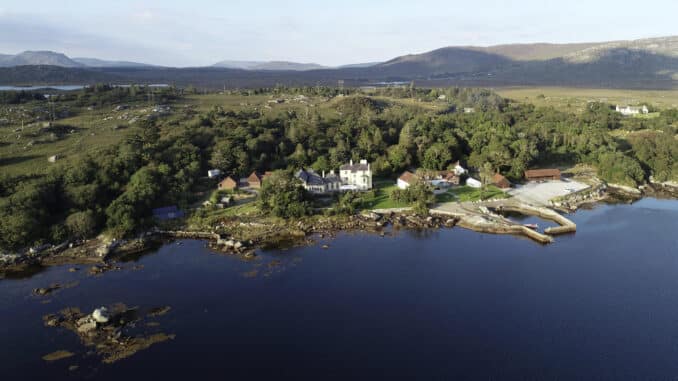 I'm sitting in the hot tub with my other half as two regular guests pop by the spa to help themselves to the towels and check the water temperature.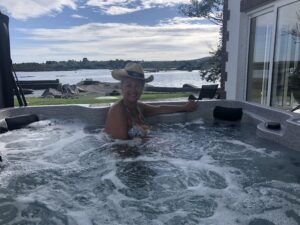 Screebe House is the sort of place where people come back to again and again and although we have only arrived I'm feeling already at home. The glorious views of Camus Bay ooze peace and tranquility and with only ten bedrooms I feel like I'm visiting a relative rather checking in as a guest here. Our kind hostess Ursula Burkert tends to the estate lovingly and as I comment on the stunning trees laden with lush green apples outside reception, Ursula insists that we help ourselves to them before going home. Screebe House is a work in constant progress for Ursula and she has created a sustainable oasis. It got me thinking in this new world where sustainability is a buzz word, why aren't beautiful apple and fruit trees growing in our cities? St Stephen's Green would benefit from a few apple or plum trees and they would make a perfect snack for anyone feeling hungry passing by and be good for the environment. The mindset at Screebe is one of true sustainability and living in harmony with the nature – one that town councils and governments could learn from.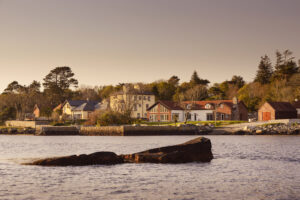 The fruit and vegetables served at the table in Screebe House come from one of three orchard gardens on the estate. We enjoy nature's bounty at breakfast with a cornucopia of delights where homemade multigrain bread, berry compote and rhubarb preserve are on offer. I go for a mushroom omelet my first morning but was full for the day so choose the salmon on my second morning. I did feel a little guilty eating fish after my success the previous day catching a trout in Lake Glencoe. Felix the Fishing Manager took us out in a shallow wooden boat and succeeded where many have failed in helping me to catch my first fish. Felix seemed to get the weather conditions and the flies right and it only took 30 minutes to hook Trevor the Trout out of the water. I hasten to add that I felt terrible about it and after the photo shoot popped Trevor back into the water as quickly as possible.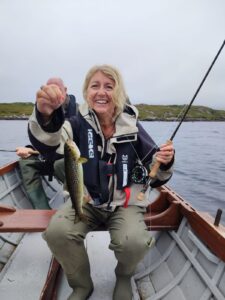 Screebe House is one of those surprising places that I wonder why it hasn't been lauded about from the four corners of Ireland. It has a rich history too as a former fishing lodge owned by the Lord Lieutenant of Ireland, William Ward – Second Earl of Dudley. During his tenure between 1902 and 1905 his remarkable wife Lady Rachel Dudley, whose philanthropic work is etched into the Connemara landscape, established the Lady Dudley Nurses. At the time there was no medical assistance for many poor isolated families who lived in the area and many houses were difficult to access. Lady Rachel, with the assistance of her husband's influence and a good deal of persuasion, asked anyone with money to support her project. The nurses were trained committed women who lived in the nursing cottages supplied across the landscape providing essential treatments to the sick and poor from Galway, to Mayo and Donegal. Although Lord Dudley was appointed to a new position in Australia in 1905 The Lady Dudley nurses left a legacy in the area that was commended for those whose lives they touched. After setting up a similar unit in the Australian Bush Rachel went on to have an essential role in supporting wounded troops during World War One. Lady Rachel loved Connemara always and on returning to her home in Screebe on the unfortunate morning of June 26th 1920 she went for a swim in Camus Bay and was drowned tragically. Her spirit was to be felt around Screebe House for some time but according to Ursula she has been silent for the last couple of years and appears to be at rest now.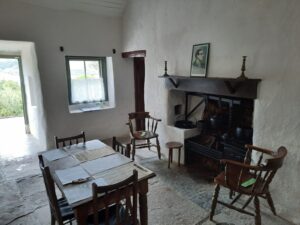 This pocket of Connemara boasts other important history with the Padraig Pearse Centre a mere six miles down the road in Rosmuck. We took the cheaters route with my car but there is the option to hire bicycles at Screebe House and cycle the short journey. Currently an art exhibition hangs in the Centre detailing the horrors of the Irish Civil War. It was only 100 years ago that the Civil War raged around Ireland and it was felt more harshly by the Rural community. A wander out the back of the centre brings us to the cottage where Pearse spent his summers immersed in the Irish language, culture and people and he dreamed up his vision of a free and sovereign country. His companions included the poet Padraig O'Conaire who inspired Pearse's great love of the native Irish tongue.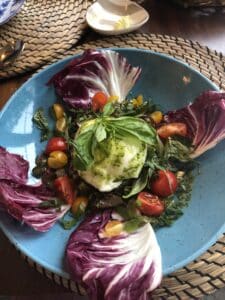 Dinner in the evenings at Screebe House is served at the Treehouse Restaurant with that view of Camus Bay. This is where the French chef makes magic with the local ingredients. The menus are short with only two options per course but if you enjoy eating in harmony with your surroundings you won't be disappointed by the choices. We chose the hake and lamb one evening and a steak on the other. After retiring to the bar the dining manager offered to light the fire as we sat under the gaze of a 14 pound salmon on the mantelpiece. At the end of each evening we were cosseted by the staff who are mostly native speakers and went out of their way to make our stay as enjoyable as possible.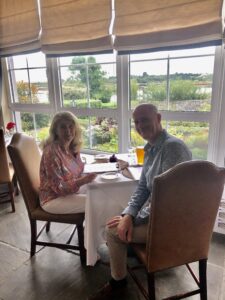 I almost forgot to mention the swimming pool which is energy efficient too and boasts a mix of sea water making it feel healthier than the usual chlorinated hotel pools. The seaweed baths and steam room are another facility in which we indulged in the cosy spa and of course I've already mentioned the hot tub with that stunning Wild Atlantic Way view.
It's always nice to be surprised, especially when it comes to travel in your own country. We left Screebe House feeling better in every way about being healthy, embracing our Irishness and with our arms laden with apples. We are also determined to become another couple of ever returning regulars to the house.
Factbox
Screebe House is an adult only property but there is the option to hire the entire house for special occasions during the winter months.
Two package options: €275 for 1 night Dinner, B&B and a bottle of wine for two people sharing. €496 for 2 nights B&B, 1 dinner on an evening of your choice and a bottle of wine for two people sharing.
Important to note that both offers are valid from September 19th to November 12th only and must be booked through Original Irish Hotels Central Reservations Office +353 1 2958900 or by email reservations@originalirishhotels.com