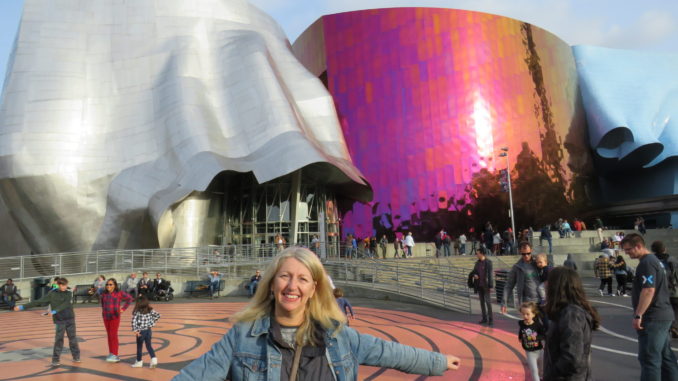 The tall skinny Asian girl looks like she's stepped out of the pages of a Manga Comic. Wearing thigh high socks and a black mini pinafore, she is so Seattle. With one quarter of the city from Asian and African American descent the blend of New York Cosmopolitan and laid-back Californian vibe, makes this a very easy city to fall in love with. And as I found there is more than rain and software to Seattle. Geographically it is the gateway to the Pacific Northwest and it was forged by a different type of pioneer. After the huge influx of migrants from Missouri to Portland on The Oregon Trail in 1843, it wasn't long until they found their way to this corner close to the Canadian border and en route to the Klondike Goldrush, attracting a hardier emigrant than those in the rest of America. The city is named after Chief Seattle, a Suquamish leader who was an important negotiator for the local tribes when the city became a settlement in 1851.
Nowadays Seattle is popular as a major port for servicing the cruise ships on the Alaskan route, a popular destination for seasoned cruisers. All seven major cruise lines base ships here and it is ideally placed for a mini-break at the end or start of a cruise holiday.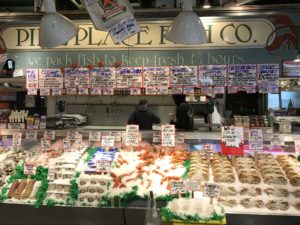 Seattle is a city of neighbourhoods with an eclectic mix of 60's bohemian culture resting beside the sleek, smart offices of today's tech giants. Whether you want to kick back and relax, engage in some retail therapy or chase that adrenaline rush, there's something for everyone. "You can be 45 minutes from skiing and an hour from surf," as one local told me when we got chatting at Pike Place Market. I arrive on a Sunday morning and skulking around the market stalls and food stands is a religion amongst locals and visitors. It's a noisy affair as the throwing of fish has made Pike Place Fish Market 'world famous', as was the intention of the owner John Yokoyama when he started the tradition over twenty years ago. Fish that is thrown at pike place isn't sold to be eaten – it's really only part of the show. Before leaving go see the Market Theatre Gum Wall – similar to Bubble Gum Alley in San Luis Obispo and fun especially for kids.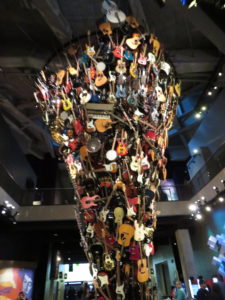 Not too far from Pike Place is the Aquarium on Alaskan Way, placed perfectly beside the Seattle Great Wheel. I found a novel way to get a taste of Washington State with Wings Over Washington ride close by. This flying theatre is a must for anyone with kids or who enjoys indulging their own inner child. The fifteen minute jaunt inspired me to spend longer in Washington State next time and explore the spectacular scenery of the national parks just outside the city.
I start my trek towards downtown stopping off for brunch at Dahlia lounge. They pay their waiters properly here so no need to include a tip, according to the Maitre d'. I'm suspicious when the bill comes out but our waiter assures me that the tip is already in the bill. It's a refreshing experience and this eatery has been in business over twenty years with sustainability as a key ingredient on the menu https://www.dahlialounge.com/ Brunch is a speciality in the Pacific North West and must be savoured.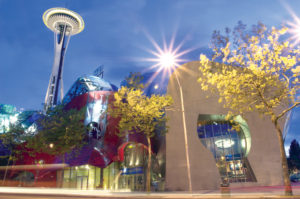 The Space Needle rises above the city skyline giving Seattle a unique viewpoint making it recognisable even when Mount Rainier is hidden by cloud. Built in 1962 for the world fair the 184 meter space needle offers 360′ views of the city. It has been improved by the introduction of a revolving glass bottom with views below of the Chihuly gardens and Museum of Pop Culture where the story of the Seattle sound or 'Grunge' as it became known is displayed in interactive and informative exhibits tracing the birth of Nirvana and Pearl Jam amongst many other great bands. The room next door is in homage to another famous son of the city, Jimi Hendrix. I'm intrigued by a handwritten diary openly on display with notes made while Hendrix was on tour. It's quite a thrill for any fan and outside the door the wall of guitars is possibly the loudest display. For ease of entry to all the main attractions the City Pass will save time and money. Cost for adults $89 and children $60. If you prefer your musical experience to be more real then visit Easy St records in West Seattle. Pop in for a coffee and learn about all the bands that have played there over the years, such as Lou Reed, De La Soul, Patti Smith and Elvis Costello. West Seattle was the birth place of Jimmy Hendrix.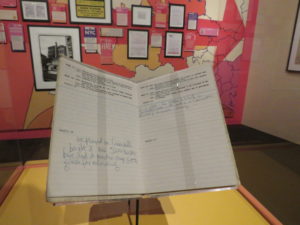 In the past referred to as Blue-collar Ballard, it is now the place for foodies and craft beer lovers. It's also a superb retail destination with plenty of vintage shops and outlets with a buzzy Sunday morning farmer's market. While you're in the neighbourhood, check out the Nordic Heritage Museum (nordicmuseum.org) at 2655 NW Market St, which tells the history of the origins of the Nordic community coming to Ballard. Visit Fisherman's Terminal – home to hundreds of fishing boats that spend months at sea off the coast of Alaska. Then swing by the Tractor Tavern where bands play every night.
East of the city is Capitol Hill and the city's LGBTQ quarter. I soaked up the cosmopolitan vibe in the Unicorn bar, which has an eclectic mix of animals on the walls, and very funky décor. While sipping on a cocktail one of the locals told me to visit Neumos where artists including Muse, Bloc Party, Fleet Foxes, Super Furry Animals, The Kills and Adele have played. My travelling companion was gasping for a pint of Guinness so we head for Pioneer Square and one of the larger Irish Bars Fado, but being the night of the Conor McGregor match entry is ticket only. All is not lost as a small sign points to another Irish bar at the back of the block on to Post Street. I usually avoid Irish pubs when travelling – but consider this spot a gem. The proprietor Jack Geary is on stage playing music for the crowd. He opened the doors of The Owl N' Thistle twenty five years ago and I've arrived on the night that the bar is celebrating its Anniversary. Jack takes a break from the stage for a few moments to tell me about the merits of living in Seattle. He enjoys sailing, and being surrounded by water on so many sides it is the perfect city for a sailor. Originally from Galway, he married a woman from Seattle who wanted to move home, so they left Boston where they had lived for twenty five years to follow his passion for playing good Irish Music in his own venue. I try the fish on the menu and as I have found everywhere in the city, the Alaskan Cod is mouth-watering. Sustainability is not just a buzz word but taken seriously in the sourcing of produce in every restaurant we visit.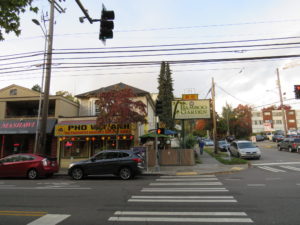 I stayed in Queen Anne, quite the posh area and great for sightseeing − only a ten minute walk to the Space Needle. The Maxwell Hotel is a pineapple hotel and with a wall of succulents to greets guests on entry into the foyer I look forward to savouring other surprises. Stacked along the wall at reception is a row of brightly painted yellow bicycles that are free for guests to use. It's the perfect way to explore this cool part of town. My hotel room is comfortable and quirky with purple walls and a furry doggy propped upon the bed to greet me. Call it clever marketing but it must be difficult for those with kids to leave without one. www.staypineapple.com/the-maxwell-hotel-seattle
Best time to visit Seattle is from July 5-September 30 and firmly agreed on by locals but the fall foliage is gathering momentum and it's almost balmy in early October. Don't miss views of the city from the water − included in the City Pass is the Argosy Cruise Harbour Tour.
Getting from the Emerald Isle to the Emerald City has never been easier. Since May Aer Lingus has offered a non-stop service from Dublin taking only 9 hours making Seattle a manageable destination for a city break.
Factbox
Aer Lingus, Ireland's only 4 Star airline, operates Ireland's first direct service to Seattle, Washington State. Flying from Dublin four times weekly, fares start from €219 each-way including taxes and charges, when booked as a return trip. Visit aerlingus.com for further info.
To find out more visit visitseattle.org