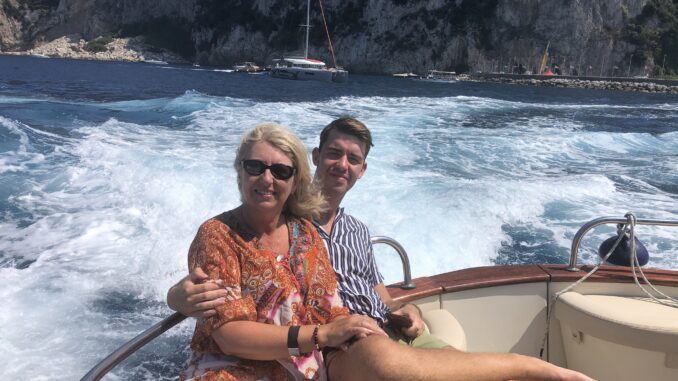 Sometimes it's not the destination, it's who you travel with that makes a holiday special. Personally, travel with my family is one of life's greatest pleasures. My son, Mark, has a penchant for Italy and has travelled the length of this boot shaped country extensively. So he was delighted to accompany his mum for a week under the Sorrentine sun in July. On this occasion we travelled with Topflight who had an agent at the airport to ensure a smooth transition from Dublin to Naples.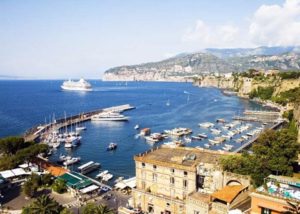 We were picked up by coach and within a few minutes enjoyed our first glimpse of the stunning coastline. Mark spent a module of his last year in college studying what life was like in the Bay of Naples during Roman times and gave me a private briefing as we meandered along the coast. On the 24th June 79AD, at about 2pm, Pliny the younger wrote letters about the events as he observed the eruption of Mount Vesuvius, and for history lovers it's a jolly good thing that he did. The towns that he saw disappear, under a cloud of ash and lava, were Pompeii and Herculaneum. As his uncle Pliny the Elder tried to rescue survivors from the water in the Bay of Naples, Pliny's writings have been an accurate record of the events on the days that followed. According to Mark poor Pliny the Elder died of smoke inhalation shortly after playing the hero while the younger is read in universities today.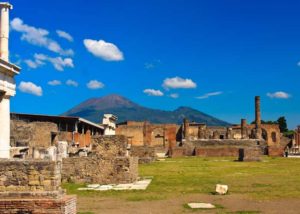 Next morning, after our free walking tour of Sorrento with Lindsey from Topflight, we hoped on a train and started our explorations of Pompeii. What was once a thriving town of over 25,000 inhabitants is now a remarkable museum spread over two square miles, and a permanent record of life at the height of the Roman Empire.
On excavation in 1785, the archaeologists poured plaster into the cavities of skeletal forms left in the petrified ash, leaving an eerie display of figures frozen in time as they tried to run or cover their faces from the intoxicating fumes. The figures are on display at the ticket booth along with various solidified foods and perfectly preserved glass goblets. The frescoes on the outside walls of each building explain what they were used for. North of what was the port in the designated town's brothel. A pick and choose menu of explicit sexual positions painted on the walls meant sailors and locals didn't need to share the prostitutes language. Not too embarrassing to be viewed with your son however!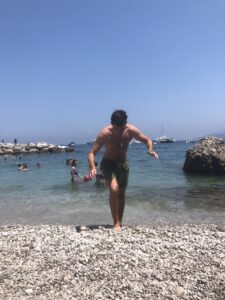 The Sorrentine Coast is dotted with small beaches dusted with black volcanic sand. All along the coast however are Lidos with full swimming facilities. They get busy at weekends and are pricey enough as a parasol and two loungers will cost €37 for one day. We spent two days at the lovely Lido Marinella at Sant Agnello where service was excellent. It was in Sant Agnello also that Mark found Ristorante Calise, a lovely family-run Pizzeria using google reviews not too far from the Lido. Ristorante Calise has a remarkable range of pizzas and a warm hostess who treated us to a little bottle of homemade Limoncello with the very reasonable bill.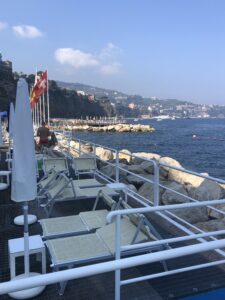 The town of Sorrento is perfect for getting lost in and a good way of supporting the local economy is by purchasing Limoncello sweets or liquors. Lemons are abundant and used to make soap, candles and a wide range of other products. A culinary speciality in Sorrento is lemon pasta which is surprisingly delicious. Good restaurants are easy to find in Sorrento on the side streets off the main square, Piazza Tasso – we spent two delicious evenings at Ristorante La Basilica close by.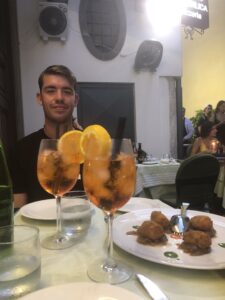 A day trip to Capri is a must when staying in Sorrento. Capri conjures up all sorts of romantic images from vintage sport cars climbing the hairpin bends to the turquoise waters of The Blue Grotto. Our rep at Topflight organized a speed-boat trip that included a tour of the waters and caves around the island.  The trip from Sorrento took thirty minutes and on arrival in the pretty marina we took a bus up to the top of the island and Anacapri.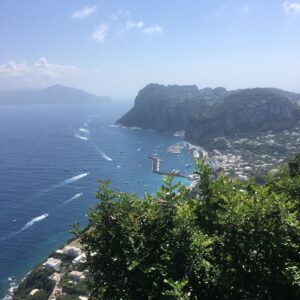 Anacapri is 5,000 feet above sea level and at the heart of the town is the Villa San Michele, home to Swedish psychiatrist and writer Axel Munthe until his death in 1949. Built on the ruin of an ancient chapel, the villa displays a Greek tomb in the gardens and an ancient sphinx which gazes out over the entire island. During the 56 years Munthe lived there he was visited by various dignitaries and writers such as Oscar Wilde and Henry James. Munthe was appointed physician to the Swedish royal family in 1892 and spent much time with Crown Princess Victoria who lived in Capri for long periods due to ill health. It is worth a visit for the views alone but to experience the finest view of the island we took a fifteen minute trip by chairlift to Mount Solaro at the summit. The gently paced journey is almost meditative and visually spectacular but not for anyone with a fear of heights. The lift runs all day and costs €12 return. www.capriseggiovia.it/en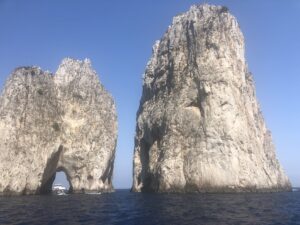 Before we returned to the mainland our boat took us through the famous Faraglioni Rocks of Capri. The middle Faraglioni is also referred to as the tunnel of love and our guide tells Mark it's good luck to kiss your loved one as you drive through the arch. A trip he will have to make again someday without his mother!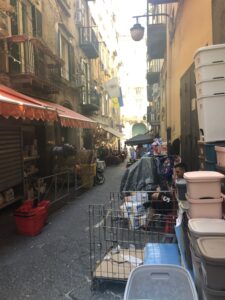 Naples is an easy day trip from Sorrento. We took the cheaper option for less than €4 each to the city centre on a crowded train that takes about 75 minutes. Mark had been on the route before and treated me to the ticket. But I made an executive decision later in the day to return by hydrofoil to Sorrento. The leisurely thirty-five minute trip with gorgeous seaviews included the option to buy two cold beers. The trip was a little more expensive at €13 per ticket but well worth the upgrade.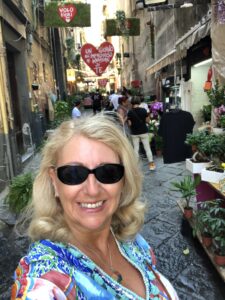 Bustling with charming, we enjoyed lunch in the Spanish Quarter, as Vespas whizzed by. Prices are more reasonable in Italy's third largest city and Mark was able to tip me off on plenty of bars where you can get an Aperol Spritz for €2.50 during happy hour.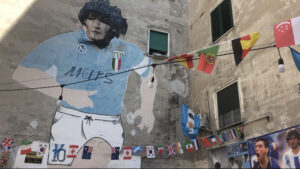 A Napolese highlight is to visit the murals of Diego Maradonna, whose spirit is kept alive by fans of the city's Napoli football club. Expect to stumble across some architectural gems such as the Piazza Plebiscito or Castle dell Ovo, all are in close proximity to the port. Mark and I found time to do a bit of shopping on the Via Toledo and bagged a couple of bargains before returning to Sorrento.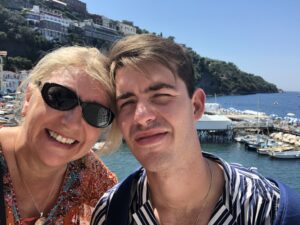 Night times we spent in the cafes and bars where people-watching is a favourite pastime. Age is just a number here with all generations enjoying café life in harmony. We brought along a deck of cards and when we ran out of games stumbled into the karaoke bar where you can dance until the small hours for the price of a cocktail. It's worth noting that cash is still king when it comes to getting taxis around Sorrento and expect to pay up to €20 for a three minute journey in the evenings. We found something for all ages to share and enjoy in Sorrento and it is the ideal base to explore all that The Amalfi Coast has to offer.
Factbox
Michelle and Mark travelled with Topflight the Italian Specialists and Irish Owned Company.
Flight and Accommodation at 4* Hotel Astoria with transfers and baggage from:
3rd September 2022 €1123pps or for next year 28th May 2023, €1145pps
www.topflight.ie