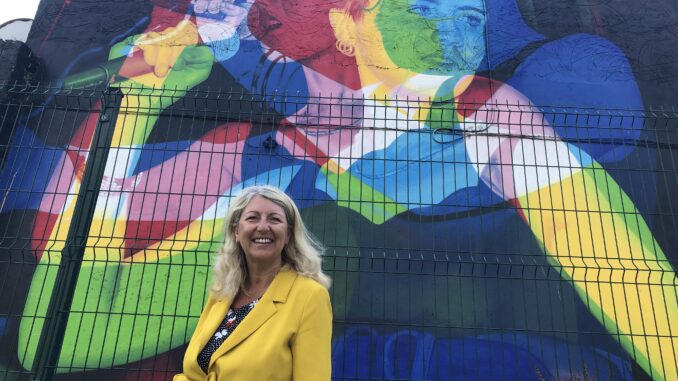 The Elaine Show Goes to Limerick for Travel Tuesday July 27th
This week I'm taking a look at lovely things to do and places to stay in Limerick. Last week I enjoyed my first city break to this city at the gateway to the Wild Atlantic Way. Set at the mouth of the River Shannon, it's easy to find your way around and there are plenty of interesting and fun things to do when you get there. To find out more about what's on in Limerick see https://www.limerick.ie/
Limerick has just been designated a Wild Atlantic Way  Gateway City by Failte Ireland
https://www.limerick.ie/discover/explore/limerick-wild-atlantic-way-gateway-city
King John's Castle
I'm happy to admit that I am a culture vulture and wherever there's a bit of history to be learned I'll be there. The story of Ireland's colonization isn't easy to digest and the same narrative of horror and oppression was felt in every corner of the country over the centuries of rule by England but it's a story that needs to be told lest we forget the barbaric nature of man. But also the heroic deeds and wonderful resilience of the human spirit acts as a catalyst to ensure we don't let dreadful events be repeated.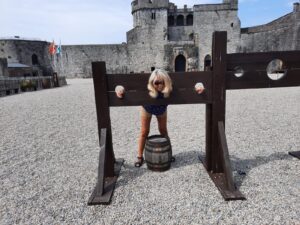 King James crops up all over the country from the River Boyne to the Siege of Derry and Limerick had its own siege in 1691 which brought terrible consequences and this time it was Cromwell's son-in-law who was at the helm of the devastation.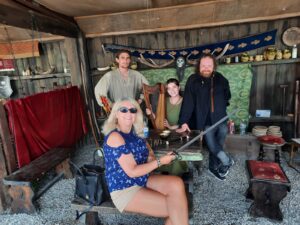 The interactive features in the Castle had me enthralled but it wasn't until I went upstairs to the main courtyard where Ocean and Molly showed us a range of medieval board games and we enjoyed some archery and pixie harp playing. I didn't realise that playing the harp in Ireland was forbidden from 1691 until the late 1800s – along with many of elements of our culture and identity.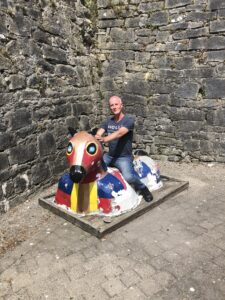 There's much for kids to do and big kids too! I made this video to show some of the highlights of our trip. Entry for adults is €11.70 and for kids up to 18 €8.55 but there is also a family ticket €49 for up to six children and two adults
While you're close to King John's Castle pop across the road and check out Treaty City Brewery. You'll spot the lovely mural of  Limerick actress, Constance Smith, on the gable end of the building. Once inside take a tour of the brewery while enjoying some of the specialised beers.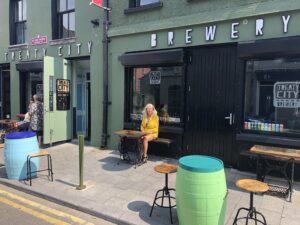 ABOUT THIS EXPERIENCE
What to expect from our tours: Enjoy a tour of an artisan craft brewery located in a historical building dating back 250 years ago in the heart of the medieval quarter. Experience a working brewery and see beer being brewed before your eyes. Learn about the history of brewing in Limerick which dates back to the 1700's. Hear from an experienced Master Brewer who will explain the process and ingredients used to create our craft beer. Enjoy a complimentary beer tasting as part of your tour – it will include 3 Treaty City brews which vary depending on the season!
The tour takes approximately 1 Hr
This museum is a rarity with an eclectic mix of unusual artefacts. Here you'll find ceramic medicine pots from Portugal and a silver death mask of James Joyce rest beside with roman cooking utensils and exotic jewellery and sculptures. At the moment there is a beautiful exhibition that pays homage to the Wild Atlantic Way – showcasing some of our greatest artists and their personal interpretations of the landscape and people that lived along the western coastline. The unusual repetition of red skirts and garments on the clothing of Irish women paints a very different picture to one that we often imagine existed. The exhibition runs to October 3rd and entry is €10 with pre-booking essential. A combination ticket to see the collection also is €12.50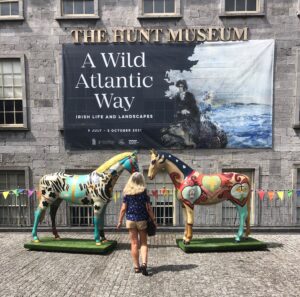 THE HUNT MUSEUM LAUNCHES OUTDOOR PAINTING FOR AUGUST
Hunt Museum Creates Space for Learning, Mindfulness, Curiosity & Play
Artist-Led Workshops in Beautifully Landscaped Gardens on banks of River Shannon
Suitable for Adults and Kids of all Abilities
The Hunt Museum will host a variety of outdoor painting classes and workshops for both budding and advanced artists in its new Museum in a Garden during the month of August. The outdoor or "en plein air" painting series ties in with the Hunt's new summer exhibition 'A Wild Atlantic Way – Irish Life & Landscapes' which gives visitors the chance to travel the Wild Atlantic Way from Donegal to Kinsale and experience the essence and soul of Ireland through a series of atmospheric and strikingly evocative paintings by 30 artists.  All events will take place in the Hunt's new beautifully landscaped garden which was officially opened to the public in June.
Jill Cousins, Director of The Hunt Museum, said, "Through the series, we're hoping to provide a fully rounded experience where all artists, budding or professional, get inspiration from either the stunning works featured in our summer exhibition or from being outdoors in our new Museum in a Garden. By combining art and nature, we can create a space for learning, mindfulness, curiosity and play."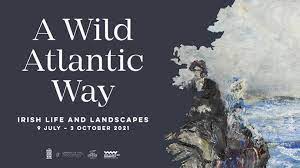 En plein air, which means in the open air, allows the student to paint from direct observation. There are three different types of painting events on offer, some with well-known professional artists, to cater for all levels of experience:
Painting Classes in the Garden
With views and perspectives of the Hunt Museum, the Shannon river, King John's Castle and Clancy's Strand, The Hunt Museum's garden provides the ideal setting for guided drawing and painting skill share sessions with some of Limerick's finest artists. Beginner's welcome, materials and equipment provided.
From 1.30pm to 4pm, Wednesday afternoons until August 18th. Adults €15, Kids €5. Booking essential
A Wild Atlantic Way En Plein Air
Be an artist for a day and paint en plein air in the garden.  Gain inspiration from the Irish Artists who feature in The Hunt Museum's amazing summer exhibition 'A Wild Atlantic Way' as well as from local professional artists who will be in attendance like John Shinnors, Roger McCarthy, Henry Morgan and Shane O'Donovan. Easels and paints are provided alongside free entry to the exhibition. Please bring a snack, lunch and a drink.
12thAugust from 12 noon to 7pm. Tickets €15, Kids €5. Booking essential
Landscape Painting Masterclass
Artist Joseph Kelly captures the majesty, atmosphere, and scale of County Clare's rugged coastline in his work. For this day-long masterclass he will give a demonstration of his en plein air painting techniques and tutor you on painting your own landscape in the Hunt Museum's Garden. Suitable for beginners, improvers and advanced. Please bring your materials including easel, canvas, palette, paints and mediums.
24thAugust from 10am to 4pm. For 16yrs and over. Tickets €35. Booking essential
As these are outdoor events, please make sure to bring any items which you may need for your comfort including a sun hat, sunglasses, sun cream, blanket, portable stool, wind breakers, waterproofs, umbrella or parasol.
Tickets can be booked online www.huntmuseum.com or by calling (061) 312 833.
You won't see the usual clatter of cruisers and boats that you expect on the rest of the River Shannon running down from Carrick-on-Shannon. But there are pontoons and watersports for all the family to enjoy. From €25 for 1.5/2 hour trips from ages 5 up.
Nevsail's Limerick City Kayaking Tours are easy, safe and fun adventures with some fun games and fun facts about Limerick included!
From the 26th of April 2021, Nevsail will be allowed to run our Family Kayaking Sessions (in pods of 2 families). Book Online.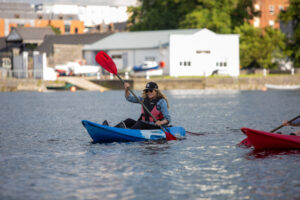 Anyone can take part from the age of 6+ years and no previous kayaking skills or knowledge is needed.
Included is an introduction to safety aspects and kayak strokes, before kayaking towards the many amazing sites of Limerick including King John's Castle, the Treaty Stone, Thomond & Sarsfield Bridges to name but a few, as they bring to life over 800 years of dramatic local history.
The tours include plenty of fun and exciting adventures and team games/challenges to keep everyone entertained!
Limerick Milk Market – a haven for foodies!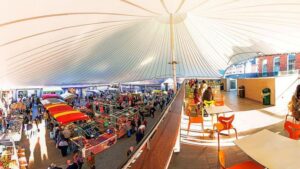 Discover the best of local, fresh produce at the Milk Market. With a guaranteed lively atmosphere on a Saturday morning, the market boasts a variety of stallholders selling produce from great farmhouse cheeses and chutneys, just-caught fish and artisan meats, organic fruit and vegetables, to delicious healthy bread and fresh pressed juices!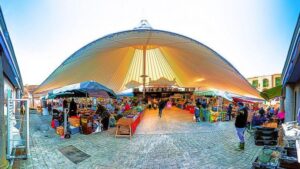 Entry to the weather proof market is free, but it will take major willpower not to purchase one of the delicious treats on offer! The Limerick Milk Market is open Fridays, Saturdays and Sundays. Find out more about Limerick Milk Market here.
Carving a 40km path through the local countryside, the Limerick Greenway offers an authentic experience of rural Ireland for cyclists, runners and walkers. Following the old Limerick to Kerry railway line, the Greenway seamlessly links the West Limerick landscape with bustling towns and villages and some of the country's most historic sites.
Experience the Limerick Greenway in one visit or explore in shorter stages, perfect for day-trippers. Whichever you choose, there will be a genuine welcome from the towns along the way, offering delicious food and quality accommodation.
Limerick Greenway Bike Hire Experience
Limerick Greenway Bike Hire have teamed up with Troy Chauffeurs to get you onto the Limerick Greenway in style. They are taking bookings for passengers and their bikes to be picked up from any location in Limerick City for the Limerick Greenway experience.
When you finish on the Greenway, our driver will return you to your starting point. Return prices to Rathkeale, Limerick per passenger sharing start at €55 with minimum 2 passengers per trip.
Outside the city is the Wonderful Lough Gur
Lough Gur is a magical and mysterious place that is rich in folklore along with a wealth of archaeology and history dating back to Stone Age times.
Enjoy the rural unspoilt beauty by taking a walk along the lake or simply sit back and enjoy the view! Find out more about Lough Gur here.
Entry for adults €5 and €3 for children.
Places to Stay in Limerick
We enjoyed a fabulous night at the Limerick Strand. Our room overlooked the Shannon and we were a short walk to all the main city sights.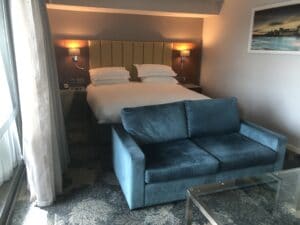 The "Explore a little More" two-night package is also available to couples and groups and available from €189 per person sharing to include, pre-dinner glass of prosecco, 3 course dinner in the new River Bar & Restaurant, 15% off Niall Colgan Hairdressing, 10% off Namaste Skin Clinic & Urban Day Spa plus the Local Attraction discounts.    All hotel guests have complimentary access to Energize Health Centre, including a 20-metre swimming pool, sauna and jacuzzi.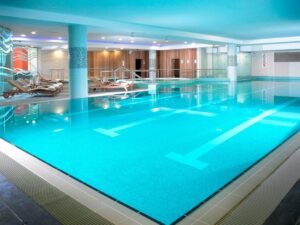 To make a reservation call 061 421800 or hello@strandlimerick.ie for more details please visit www.strandlimerick.ie.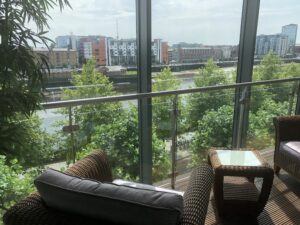 The Maldron Hotel Limerick have a Club Vitae which is crucial asset in any hotel this summer – especially when travelling with children.
An overnight stay from August 19th to 21st is only €240 for a family of two adults and one child staying in the same room. Breakfast not included but check out the website for other deals.
Fitzgeralds Woodlands House Hotel & Spa Packages
Halloween stays for families from €220 for family of 2 adults and 1 child
Free Kids Club and lots of activities including fairy trail, pet farm, scavenger hunt, sports field, bug hunts, learn to sow and grow with the gardener in Mary's organic garden, a sensory maze in the garden, 1.2km walkway to explore, and not forgetting ice cream in SCOOPS at The Treehouse!
Couples and Besties breaks. This is a nice offer for Autumn from €290 per couple
Enjoy an overnight stay with full Irish breakfast. Choose two of the following mini treatments in Revas Spa:
Full Body Scrub, Back Massage, Mini Facial, Head Neck & Shoulder Massage, Foot and Leg Treatment, Hand and Arm Treatment and this offer Includes use of the Relaxation Suite.
The Great Escape!
Originally, Echo Lodge was a long thatched dwelling located in what is now the kitchen garden. The foundations of this house are still evident and annually pose impermeable difficulty for the gardeners! This thatched house was a stopping house for the great Daniel O' Connell, 'the Liberator' on his journey from Derrynane to Dublin during his political career.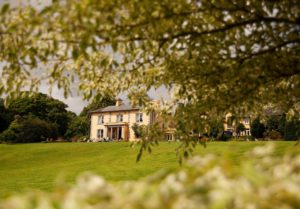 In 1985, Dan Mullane set up the Mustard Seed restaurant in a cute cottage in nearby Adare village. From small beginnings, the Mustard Seed gained in popularity and became one of the first successful 'fine dining' restaurants in the area. Having been established for 10 years, Dan decided to progress from being just a restaurant and brought the Mustard Seed to Echo Lodge, thus allowing dinner guests the opportunity to stay overnight. Renovation began in 1994 and the Mustard Seed at Echo Lodge opened in 1995.
Includes: Dinner, Bed and Breakfast
From: €129 per person sharing.
They have good availability midweek and in September